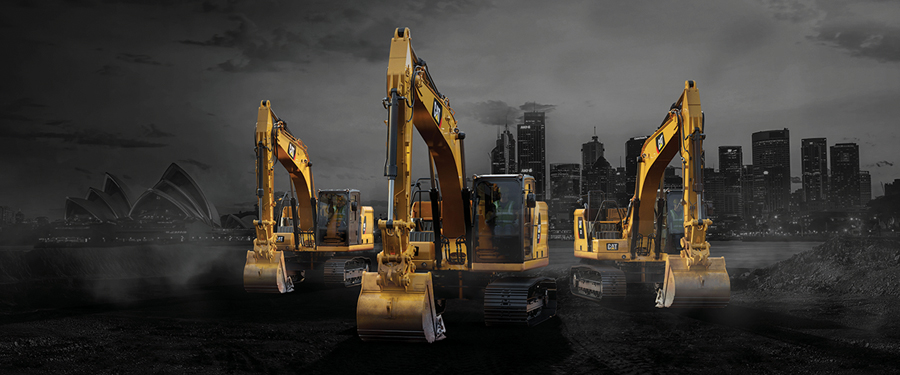 WESTRAC UNVEILS CAT NEXT GENERATION EXCAVATOR RANGE
Caterpillar and WesTrac are taking Australia's construction and mining sectors firmly into the Digital Age with the release of three Cat hydraulic excavators that will boost operator efficiency and lower fuel costs.
The Cat 320 GC, 320 and 323 are the first members of Caterpillar's Next Generation of Excavators to be rolled out in Australia and boast an array of industry-leading technologies. Features including Cat Grade with 2D, E-Fence, Assist, and Payload come standard with some models.
The excavators are being unveiled at major media events in Perth and Sydney starting on May 25, with a host of regional launches to follow. "It's no exaggeration to say that these are the most advanced excavators to ever be sold on the Australian market and each represents a major upgrade over its Cat predecessor," says WesTrac WA Chief Executive Officer Jarvas Croome.
"We believe that they will completely transform the market." WesTrac NSW/ACT Chief Executive Greg Graham adds, "Collectively, the range promises up to a 45-percent increase in operator efficiency, up to a 25-percent reduction in fuel consumption and up to 15-percent reduction in maintenance costs. There are also significant gains in terms of user comfort."
IMPROVED GRADE EFFICIENCY
Next Generation Excavator
Caterpillar is updating its entire range of small, medium and large hydraulic excavators, with new models being released in staggered launches over the next two years. The Cat 320 GC, 320 and 323 each come standard with a rear camera and Cat Connect software and services that helps businesses save time and money.
The Cat 320 and 323, in particular, show the full benefits of the Digital Age. Weighing in at 22.7 and 25.5 tonnes respectively, each is equipped with features to improve grading efficiency by 45 percent over traditional operations. For example, Cat Grade with 2D makes it far easier for users to achieve the desired grade by providing information about the depth, slope and horizontal distance to grade. The system's E-fence feature, meanwhile, enables the machine to work safely under structures or near traffic by preventing any part of the excavator from moving outside operator-defined set points.
The standard 2D system can be upgraded to Cat Grade with Advanced 2D or Cat Grade with 3D.
Grade Assist automates boom, stick and bucket movements, so operators stay on grade simply and effortlessly with single-lever digging. Cat Payload on-board weighing delivers precise load targets and increased loading efficiency with on-the-go weighing and real-time payload estimates without swinging to prevent truck over/under-loading. Cat LINK™ hardware and software connect jobsites to the office and provide customers with machine-critical operating information.
REDUCED MAINTENANCE COSTS
The 320 GC, meanwhile, is the perfect option for job sites that don't require a full suite of digital features, but still want the economy, efficiency and build-quality advantages of Cat's New Generation of excavators. Weighing in at 21.9 tonnes, it is designed for low-to-medium-duty applications, and boasts the same high-quality chassis and cab as the 320 and 323. It is cost-effective and extremely easy to use.
Jarvas Croome notes, "Caterpillar's efficient Next Generation machines consume 20 to 25 percent less fuel than the previous, corresponding models," he says. "And thanks to extended and more synchronized maintenance intervals, maintenance costs are reduced by up to 15 percent over the previous series."
MAJOR LAUNCH EVENTS
The new excavators will be launched at the Australian Technology Park in Sydney on May 25 and at WesTrac's South Guildford Dig Pit in Perth on June 8. The excavators will also be showcased in a series of regional roadshow events in 10 different locations across both WA and NSW.
ABOUT WESTRAC
WesTrac is one of the largest Caterpillar dealers in the world and supplies and services Cat equipment in WA, NSW and the ACT. The wide array of machinery and construction equipment at WesTrac and its whole-of-life management solutions make owning and operating equipment as easy, profitable and safe as possible.
ABOUT CAT NEXT GEN EXCAVATORS
The Next Generation of Cat® excavators has arrived. The first of their kind, they've been built to keep you competitive. Whatever the job, these revolutionary excavators will help you increase performance and fuel efficiency, hit production targets and drive costs down.