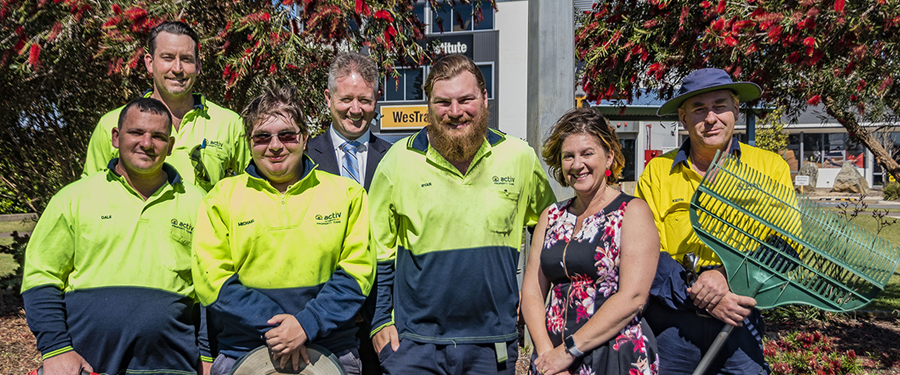 WESTRAC STRENGTHENS TIES WITH DISABILITY SERVICES PROVIDER ACTIV
WesTrac has strengthened its ties with disability services company Activ Business Services by signing a three-year contract for gardening work in the Perth metropolitan area and one regional location.
Activ is an Australian Disability Services organisation that offers individualised services to people living with disability and their families. This includes providing a supported environment where people with a disability can play an active role in the workforce. The company has provided WesTrac with gardening services for about a decade, usually on an ad hoc basis.
WesTrac WA Chief Executive Jarvas Croome says in recognition of the high standard of work provided by Activ and its positive impacts on society, WesTrac is now increasing its commitment to the company.
"We're delighted to provide work to a company that helps people with disabilities to live fuller lives and to play a more active role in the workforce," says Croome. "However, the decision to enter into a three-year agreement with Activ also reflects the quality of work they provide and their competitive offering. We look forward to Activ keeping WesTrac premises looking wonderful over the next few years."
EXPANDED SCOPE
The new contract expands the scope of the work that Activ currently performs for WesTrac at metropolitan sites including South Guildford, Kewdale, Welshpool, and Perth Airport as well as Bunbury in regional Western Australia. Activ workers will deliver services including garden maintenance, lawn mowing, brush cutting and slashing, mulching, and small plant rental.
Activ employs about 1,000 people across Western Australia from a diverse range of backgrounds.
Michelle Bilson, Executive Manager for Operations at Activ, says the new agreement will provide ongoing work for 36 people with disabilities as well as supervisors. "One of the major benefits of the contract is the long-term security of employment it provides for both individuals and their families," she says. "We're very pleased that WesTrac has shown its confidence in Activ in this way and look forward to providing a high standard of service in the years to come."
Bilson says people with disabilities who work on projects such as maintaining WesTrac's gardens receive a wide range of benefits. "They gain skills and confidence," she says. "The supported workers and the supervisors are just like any other workmates who enjoy things like a Friday afternoon barbecue together."