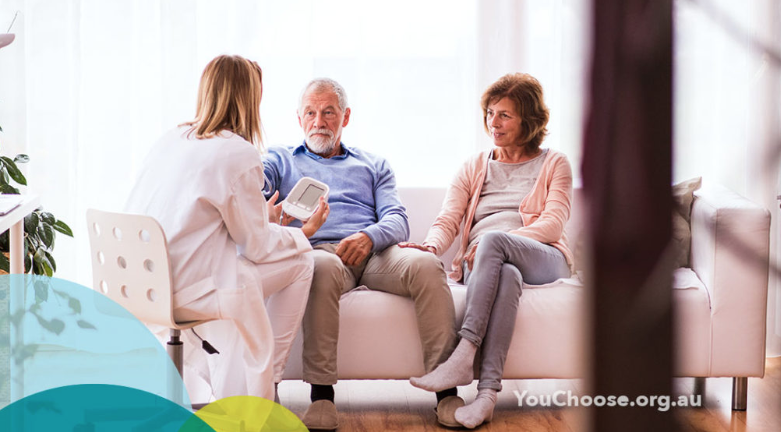 The secret to living at home longer
Home really is where the heart is. And by taking a few simple steps and accessing appropriate Home Care, many older Australians can live comfortably and safely in their own homes.
As people age, their homes tend to provide them with a link to some of the happiest times of their lives. Our homes are often where we raised our family or where we spent time with the love of our life. Or maybe where we laughed with or cared for a beloved relative. Living in our own home also keeps us in touch with the community and neighbourhood we know and love, surrounded by familiar faces and the shops we like to visit. It provides us with a sense of identity, safety and autonomy – a feeling that we are in control of our own lives. It's no wonder that the vast majority of Australians want to 'age in place' in their own homes and want home care services to support them.
When the Australian Bureau of Statistics interviewed Australians over 65 about whether they intended to stay or move in the 12 months ahead, 95 percent of home owners said they intended to stay put. Almost all respondents said they were doing so out of choice rather than necessity.
The Federal Government also recognises this strong desire and provides aged care funding to help Australians stay in their homes longer through the Home Care and Commonwealth Home Support Programmes. You can find out about your entitlements at myagedcare.com.au. So, what does it take to successfully stay at home longer and age in place? Is it difficult? Follow these four steps and you'll be well on your way to ageing in place safely, comfortably and with dignity.
1. Make home modifications
The home that you needed as a 45-year-old is different to the one you need as a 65, 75 or 85-year-old. As we age, our bodies find certain chores more difficult. Consider adjusting your home so that it suits the older you rather than your younger self. In the kitchen and bathroom, you may want to lower workspaces and change the handles on taps. You may find it useful to install rails and ramps throughout to assist your mobility and to have doorways widened to allow for wheelchairs or walking frames. Light switches can be lowered, and your bath can be replaced with a more accessible shower and a shower chair to avoid slips. You may even be able to access funding through programs such as Home Care to subsidise these modifications.
2. Stay on top of your cleaning
Untidy and poorly maintained homes can sap your energy levels, create health or safety risks and reduce your willingness to invite friends over. Approved Home Care support providers like BaptistCare can provide assistance with home care services including cleaning services, ironing, washing, gardening, spring cleans, preparing your home for winter and much more. Getting help with labour-intensive chores around house, or even the smaller chores that require bending or balancing will make it easier for you to live independently for longer.
3. Get social and health support
Successfully ageing in place is as much about your house as it is taking care for yourself! Keep your body in shape with regular walks, medical check-ups, and by conscientiously following your doctor's guidance. Successful independence at home also involves caring for your emotional and spiritual well-being by maintaining a good social network and being involved in a range of activities that keep your mind active. As an approved Home Care provider, BaptistCare can help you with services including helping you to attend appointments, do your shopping, get out and about to take part in relaxing activities, attend social club and volunteer. They can even arrange pastoral care visits, a secret weapon keeping people active and connected with others.
4. Be prepared for an emergency
As you age, health issues such as osteoporosis, arthritis and unexpected obstacles such as poor lighting or slippery floors can cause falls. Sometimes even the side effects from medications, such as drowsiness, can impact how we move around. No matter how careful you are, your mobility can change and accidents can happen. A great way to ensure you receive the assistance you need in such circumstances is a wearable emergency bracelet or necklace such as BaptistCare's CareCall. At the press of a button, you are immediately connected to an emergency response operator who can send help. This provides reassurance to both yourself and your loved ones, and helps you stay comfortably in your home for longer.
Provided you make some modifications to your home and get your support structures in place, you're likely to enjoy many more happy years in the comfort of your home.
If you or a loved one would like more information on living at home longer, contact the BaptistCare Customer Engagement Centre on 1300 275 227 or visit www.youchoose.org.au
DID YOU FIND THIS ARTICLE HELPFUL?