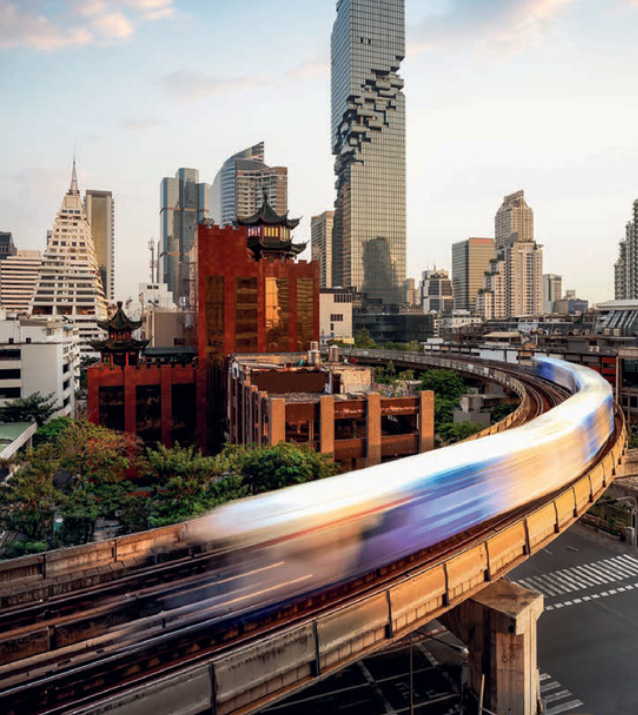 Region of growth
CLIENT: Atlas Copco via Appelberg
PUBLISHED: Atlas Copco Achieve magazine
ORIGINAL ARTICLE: Region of growth
CREATED: July 2018
AUTHOR: Fallon Dasey
If you add them together, the countries that make up South East Asia represent the world's seventh biggest economy. Regional Vice President Horst Wasel and his team are determined to see that this often-neglected region gets the attention and recognition it deserves.
Bustling with life, colour and energy, South East Asia is one of the most diverse markets in the world – and also one of the most promising.
The 11 nations that make up the region are home to more than 650 million people and boast a wide range of religions, languages, political systems, and approaches to business. And yet according to Horst Wasel, Vice President for Atlas Copco Holding South East Asia/Oceania, two things that unite the whole region are extremely friendly people – and a tremendous potential for growth. "While individually these countries may not be that big, if you put them together they would form the seventh largest economy in the world," Wasel says. "Their populations are growing, there's good GDP development, and the overall economic situation means that there is very strong potential for growth across the region."
While Atlas Copco's history in South East Asia stretches back many decades (the company last year celebrated 50 years in the Philippines), Wasel has held his position in the region since the beginning of 2017. Over the past 18 months, he has met with staff and customers in each of the 10 countries in the region in which Atlas Copco is active – Cambodia, Myanmar, Vietnam, Singapore, Thailand, Brunei, Indonesia, Laos, the Philippines and Malaysia. Along the way, Wasel has gained a keen appreciation for the major challenges to doing business in the region – and the many opportunities.
6.3 percent growth
Unlike East Asian nations like China, South Korea and Japan which developed thriving economies in the second half of the twentieth century, South East Asian countries have long been held back by poor infrastructure and problems stemming from their colonial pasts. But advances are now being steadily made both politically and socially, and many countries in the region are enjoying strong economic growth and developing digital and manufacturing industries. OECD estimates suggest 'emerging Asian' countries, including those in South East Asia, will experience GDP growth of 6.3 percent between now and 2022.
Wasel says this growth presents enormous opportunities for Atlas Copco to grow itself and to better service its customers needs. "There are not too many places in the world that have GDP growth over six percent," says Hassel. "So, there's a clear economic reason for us to be here. But our customers are also here, and we want to service them locally, to provide local service and sales and back office support rather than doing that from a centralised location somewhere else in the world."
Wasel also feels particularly passionate about raising the profile of the South East Asian region within Atlas Copco and the broader business community. "I think in the past, Atlas Copco like a lot of companies has paid more attention to places like China, India and the US, and the countries in South East Asia were somewhat forgotten," he says. "We need to change this so that instead of being a forgotten market it is one where we have a clear and present focus."
Fast-growing workforce
Atlas Copco currently has about 1100 staff in the South East Asia region across the key business areas of Power, Industrial, Vacuum and Compressors, and has a customer centre in every country except Laos and Cambodia.
Wasel says a key to ongoing growth in the region – and one of the major challenges facing Atlas Copco – is getting more talented people on board. "One of the major investments Atlas Copco is making in the region is in hiring more people," he says. "Over the past year, we have hired around seven percent more people and rather than focusing on expats, most of these are local people."
While it sounds simple, Wasel says acquiring and retaining talented staff is one of biggest challenges in the region. "Unemployment is very low, and many countries provide a good education, so people have lots of choices. The top challenge for us, without any doubt is to get the best people on board."
A key driver of both growth and the talent pool is the rapidly expanding middle class in many South East Asian countries. "Countries where you just have the extremes of very rich people and very poor people tend to be less stable and less sustainable in the long term," Wasel says. "The middle class is growing and I think a great example this is Vietnam. I first visited Ho Chi Min city 20 years ago and today it's so clean, full of tourists and has a very well established middle class."
Diverse region
Wasel says as he travels through the region he is continually struck by the enormous differences between the various countries. While Singapore has a GDP of about $54,000 per capita, its regional neighbour Cambodia has a GDP one fiftieth the size, at $1100. While Indonesia boasts the world's fifth largest population with 262 million people, the population of its neighbour Brunei is just over 400,000 people. The political systems present include one-party governments, a socialist regime, an absolute monarchy, and military government.
However, Wasel stresses the variety and complexities of the cultures in the region are no excuse for not doing good business here. "People say its hard to do business in certain countries because of the culture," he says. "But usually this is an excuse for the business model not working. If you're not succeeding, it's because you don't have the right products or people or strategy. Don't blame the culture."
Tough stance on corruption
Because different countries are at different stages of social and political development, Atlas Copco must be vigilant about ensuring high standards of business ethics are always met. "Singapore is number seven on the list of the least corrupt countries, but Cambodia is ranked 156th and Laos and Myanmar are quite low, too," says Wasel. "All employees sign documents related to ethical behaviour and the business code of practice and we provide continuous training across all countries. Our legal adviser flies around speaking to everyone from management down to mechanics and salespeople to give them tools to handle corruption when talking to suppliers and customers."
Atlas Copco also supports the development of the societies in which it operates through initiatives such as Water For All, which provides communities with clean drinking water. "Last year, I inaugurated a project in the jungle 2.5 hours outside of Jakarta where we have helped provide a clean water source to a village that previously didn't have one."
Digital future
Wasel says the coming years have great promise both for Atlas Copco and South East Asia.
"Lots of countries are talking about digital transformation, and in the Philippines, Thailand and Vietnam there is a build, build, build approach as they try to improve and develop the infrastructure," he says. "Meanwhile, oil and gas is coming back and we're seeing more investment in that area already."
But he advises that to be successful here companies need to persevere. "We're running a marathon, not a sprint race," he says. "If you come here and want a quick-win situation, you will most likely not get that. You need to have a long-term that strategy that your customers can see: you're here, you're established, you're investing and you're not leaving. This is how we get success in these countries."