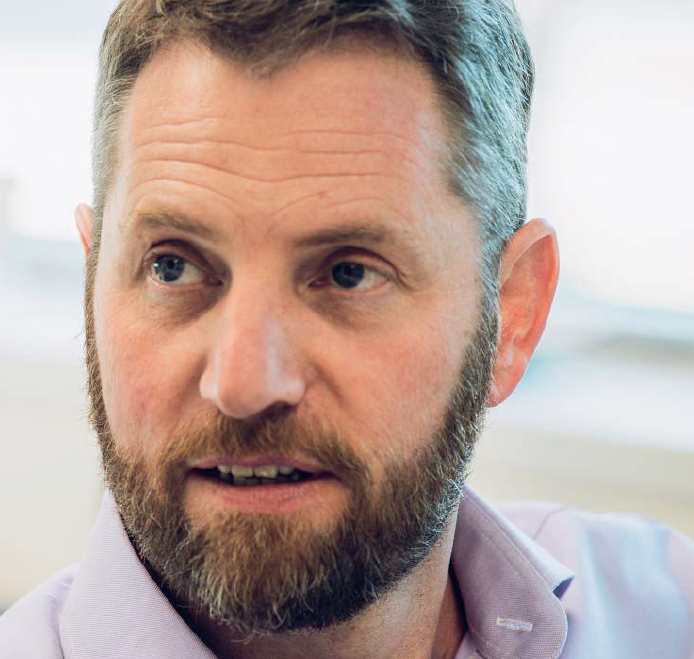 Opportunities knocks
CLIENT: Appelberg Publishing Stockholm
PUBLISHED: Saab Group website/Facebook
ORIGINAL ARTICLE: Published internally
CREATED: 2016
AUTHOR: Fallon Dasey
After less than 20 years of operation, Saab Australia has tripled in size, expanding its domain range and customer base. Managing Director Dean Rosenfield says the secret is a willingness to continually evolve.
WITH A COASTLINE stretching more than 25,000 kilometres, a high degree of geographic isolation, and a population of just 24 million people, Australia represents a unique market for Saab. For local defence forces, the sheer scale of the job makes them highly dependent on technology. The country has a developed, first-world economy, so there is demand for innovative solutions in a range of civil sectors as well.
Saab Australia Managing Director Dean Rosenfield says that since 1988 the company has grown from an exclusively defence-based business to now cover domains as diverse as prison and detention-centre security and aviation systems. "We're always looking to grow, and over the past 16 years we have gone from having two projects to having multiple projects," he says. "We have more or less tripled in size, in terms of revenue and people."
The business in Australia became part of Saab when Saab acquired Celsius in 2000. Saab Australia's first customer was the Australian Defence Force, for whom it still supplies two crucial pieces of military technology. The first is a Battlefield Command Saab Australia is focusing on growth in the commercial market. It has sold security solutions to prisons, among other customers. Managing Director Dean Rosenfield shows how the system is built. Support System (BCSS), supplied to the Australian Army for efficient information management and distribution in combat situations.
The second is the 9LV Combat Management System (CMS), used on all of Australia's ANZAC-class frigates – the bulk of the nation's naval fleet. "The system is in eight ANZAC frigates and two landing helicopter dock ships operated out of Australia, so we're integrated across the entire fleet," says Rosenfield. "We're also involved in a tender to supply the CMS to two new tankers."
Rosenfield says that while the local defence market has traditionally been very cost driven, a recently published white paper has signalled a greater emphasis on working with and developing the local defence industry – which is good news for Saab Australia.
A former special forces officer who has been with Saab Australia since its inception, Rosenfield says the company was faced with a decision in 2007: either focus solely on defence or diversify into civilian areas. Believing that diversity would increase stability, the company entered into a contract supplying security systems to the Southern Queensland Correctional Centre, a jail operated by Queensland Prisons. "We hadn't worked in that area before, so we had to apply our skills and knowledge to a new domain," says Rosenfield. "Th at meant we approached it in a completely diff erent way than our competitors – and we won, beating Honeywell, one of the largest security providers in the world."
The company has now provided security systems to five prisons in Australia and New Zealand, and to almost every Australian immigration detention centre. "We have also recently completed security upgrades on 16 Australian Defence Force bases," adds Rosenfield.
The company is now working on expanding its civil security service to other sectors, including casinos, hospitals and public buildings.
Another important and emerging domain is air traffic management. Saab's Integrated Tower Automation System (INTAS) has been installed in local air traffic control towers around the Adelaide, Rockhampton, Broome and Melbourne airports. Saab has also successfully conducted trials of its remote tower system, allowing for the effective control of air traffic in unmanned and geographically isolated airports.
Looking ahead, Rosenfield sees tremendous potential for Saab in Australia across a range of domains. "We're aiming to double in size over the next five years," he says. "It's quite an ambitious target that's not going to come purely from organic growth. So, for us, the focus is on mergers and acquisitions that will get us into new domains or adjacent markets, such as casino security."
SAAB AUSTRALIA
Established: 1988
Number of staff: 350
2015 turnover: AUD 160 million
Key domains: Defence (navy and army), civil and defence security systems, aviation control tower systems
Location: Adelaide, South Australia.