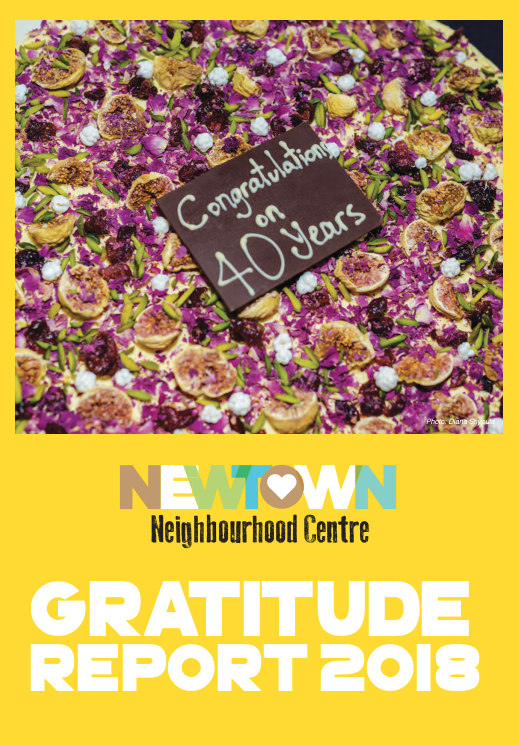 Newtown Neighbourhood Centre Gratitude Report
CLIENT: Newtown Neighbourhood Centre
PUBLISHED: NNC website
ORIGINAL ARTICLE: 2018 Gratitude Report
CREATED: December 2018
AUTHOR: Fallon Dasey
Report excerpt:
A life-changing partnership
Relaxed and happy in their tidy inner west flat, Glen and Jacqueline are a picture of domestic bliss. They enjoy cooking meals, singing along to the guitar, and hosting friends. But it wasn't so long ago their lives were very different.
After three years of couch surfing, living in boarding houses and sleeping rough, the pair were close to breaking point. Both were dangerously thin, drinking too much, and leading lives that only worsened their health and psychiatric problems.
It took hard work and commitment plus the support of two NNC case workers for the pair to eventually break free from that destructive cycle and to turn their lives around.
"Jacqueline was in RPA Hospital for three months and I was living under the hospital building, below the air conditioning ducts," recalls Glen 51, who has been in and out of institutions his whole life. "I heard about Newtown Neighbourhood Centre and I started going there every day. Finally, after a while of that they
gave me a case worker, Jay, and things started to change."
Jay, who works with NNC's Boarding House Outreach Service, began catching up with Glen on a regular basis, working with him to get the support he needed and to find safe, suitable accommodation. When Jacqueline, 52, was released from hospital, she and Glen initially crashed at a friend's house. When
that came to an end, Jay helped them secure a place in an inner west boarding house. While it was better than sleeping rough, it was also a challenging environment thanks to the drug, alcohol and psychiatric problems of the other residents. "We only had space in our room for our
bed, our things and a small chair," says Jacqueline. When the pair ran into trouble with their rent, Jay was able to source funds to bail them
out and also signed them up to an automatic payment scheme.
In 2018, Jacqueline got her own case worker, Lara, through NNC's partner, the Community Restorative Centre(CRC). Lara ensured Jacqueline
received the physical and emotional support she needed, and also identified an opportunity to find the pair more permanent housing. Glen
and Jacqueline recently moved into a transitional flat through St George Community Housing's Port Jackson Program and will be allowed to stay
there until permanent community housing becomes available.
"It's been a long journey, but these guys have fought so hard," says Jay. "They have jumped over every obstacle and through every hoop to
get here."
For their part, Glen and Jacqueline can't imagine where they would be without NNC's help. "I'd probably be back in jail, or worse," says Glen.
"And I seriously would have lost it mentally," says Jacqueline.
Instead, the pair now have big plans. Jacqueline is keen to write a book about her experiences. Glen is hoping to find work as a chef or a
truck driver, but also has his eye on another career. "I'd like to get back into studying and become a social worker," he says.