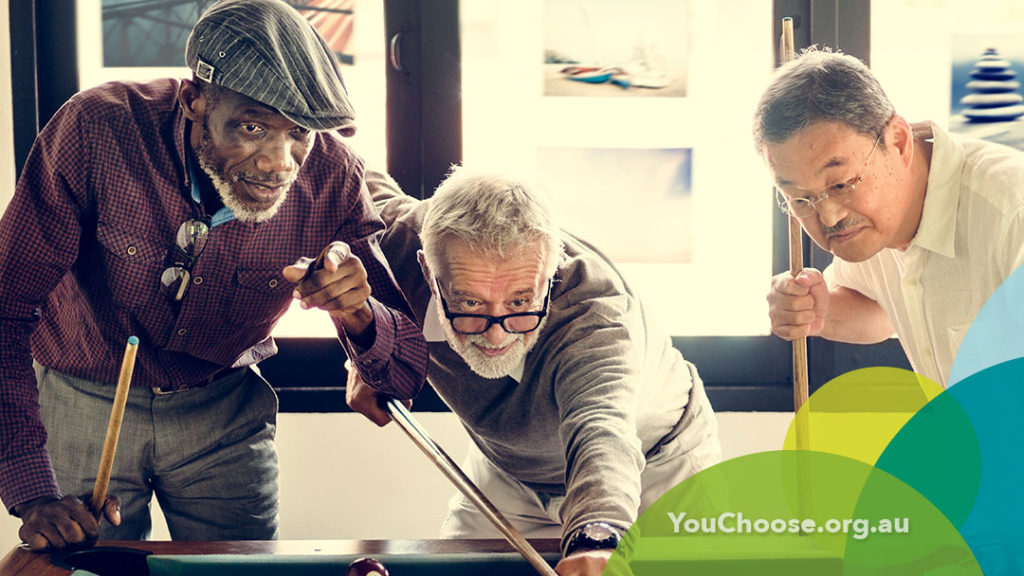 Aged Care Tips: How Older Men Can Make New Friends
CLIENT: Be You Not Them
PUBLISHED: BaptistCare YouChoose website
ORIGINAL ARTICLE: Make friends as an older man
CREATED: July 2018
AUTHOR: Fallon Dasey
Having good mates that you can rely on is important at any age, but as men grow older strong female and male friendships are the key to staying healthy and happy. Here are five ways older men can make – and keep – new friends.
There's nothing like catching up with a good mate. Whether it's having a chat over a beer or maybe going fishing together, being in the company of someone we like and trust gives us the chance to relax, to let down our guard and to truly be ourselves. As men age, having this ability to connect with friends becomes even more essential. Repeated studies have shown that men who enjoy strong female and male friendships are more likely to enjoy longer lives.
Who wouldn't want that?
As we age, though, changes in our circumstances can see friends drop out of our lives. Our children grow up, we might finish work, move houses or possibly even into retirement living or aged care. Our regular circle of mates shrinks. Maintaining friendships over a distance means more phone conversations and fewer shared activities time; men can struggle with this.
But don't despair. If you're a man over 60 who would like more friends in his life, there are plenty you can do. Try some of the following five options and you're bound to meet plenty of people to connect with.
Pursue your hobby
Psychologists say there are distinct differences between the friendships men have with other men and those women have with women. Women as a whole tend to enjoy face-to-face time, chatting, sharing news and listening. Men tend to be more comfortable with 'shoulder-to-shoulder' time – undertaking activities with each other, such as camping or watching or playing sport. With this in mind, pursuing a hobby is a great way to get in touch with like-minded mates. Whether it's restoring old bikes, building model ships, bush walking, or genealogy, find a pursuit you can share and enjoy doing with others, then get involved.
Volunteer
Volunteering is one of those win-win activities. By signing up to help out at the local surf club, agreeing to pick up rubbish from the local bush, or reading to kids, you not only help others you help yourself. There's ample evidence that volunteering in older age help keeps us active, happy and socially engaged. And it's a great way to develop female and male friendships with people of similar interests.
Get a dog
When ABC News online recently asked visitors how men in the second halves of their lives could make new friends, one of the more popular responses was to get a dog. Having a canine companion will encourage you to get out of the house every day, and dogs tend to be a natural conversation starter. Just try walking around a park without being approached by kids eager for a pat.
Or, by other dog owners who are out stretching their legs and looking for conversation. It's a great way of making female and male friendships. Be sure to think about what kind of dog suits your lifestyle best. If you have mobility issues now or are likely to in the future, chose a less demanding breed, like a pug or cocker spaniel, and consider a dog that is older and already trained.
Join a club
The whole purpose of a club is to bring people together who have shared values, interests and ideas. Find a club in your area that matches your outlook and sign up! It might be the local soccer, rugby league or rugby club. Or the local surf club that needs help running activities for nippers. Or perhaps your local RSL or church.
Chances are they run regular activities, arrange outings and dinners and are filled with others wanting to make female and male friendships.
Develop male friendships by getting fit
There are countless studies that show keeping fit into old age not only increases your chances of living a long life, but also your levels of happiness, too. Regardless of age, human beings have the ability to add muscle and improve their cardiovascular fitness. You can use exercise as a way to make friends, too. Maybe sign up for the seniors' swimming club at the local pool, or seniors' fitness classes at the local gym.
Senior weightlifters at the gym always attract fellow lifters interested in chatting and swapping stats. If that sounds too energetic, a quick internet search will find a local walking or bushwalking club. Regular gentle or more active exercise is sure to offer you the chance to connect with new friends.
YouChoose by BaptistCare offers people in aged care a range of services to help them to remain socially active and to maintain and develop friendships.
To find out more, contact the BaptistCare Customer Engagement Centre on 1300 275 227 or visit www.youchoose.org.au.