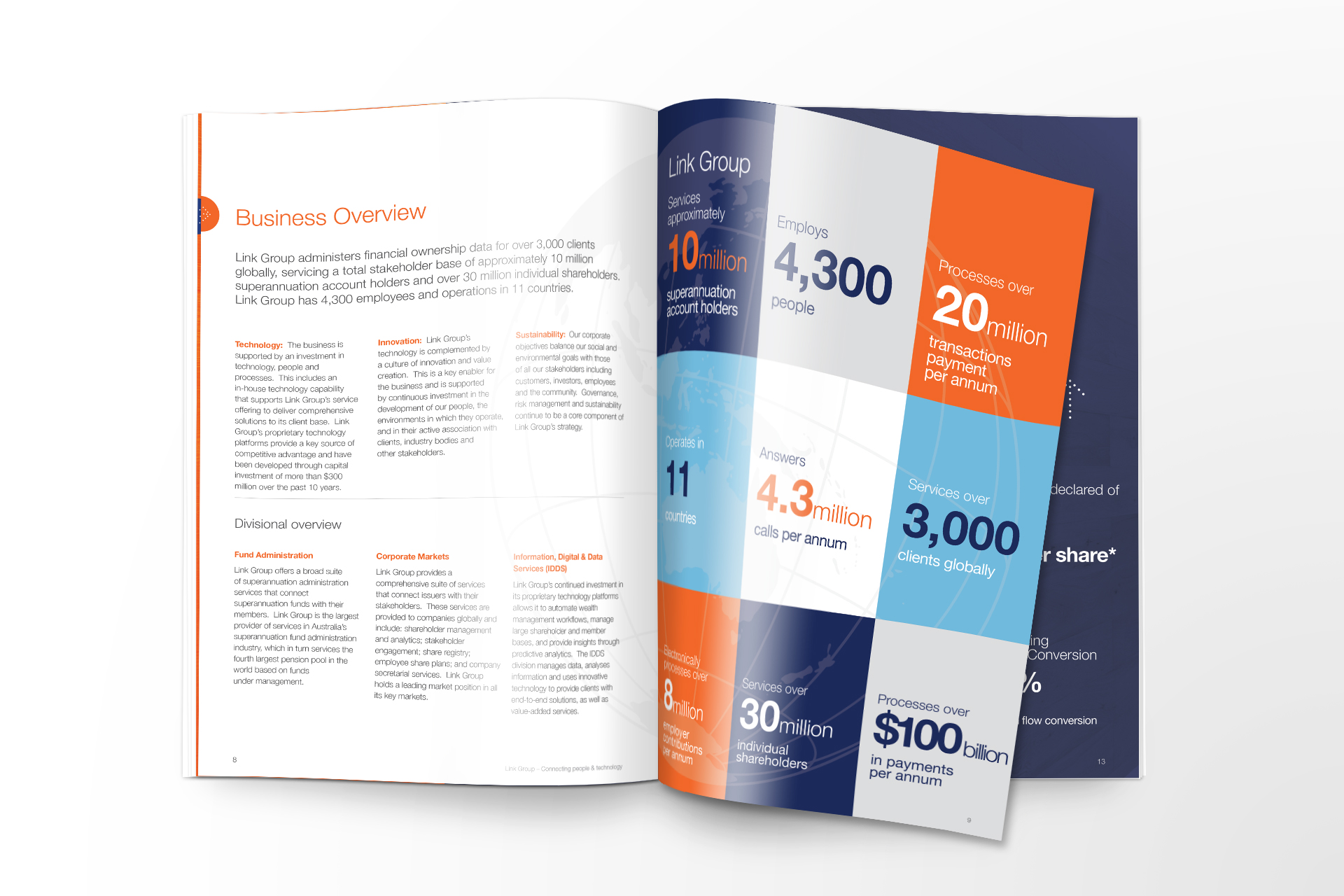 Link Group 2018 Annual Report Extract – Our Culture of Innovation
CLIENT: Link Group
SCOPE: Design document, write all front-book content, edit and harmonise entire report
PUBLISHED: Link Group website/500 copies printed
ORIGINAL ARTICLE: 2018 Annual Report
CREATED: August 2018
AUTHOR: Fallon Dasey
We live in an age when rapid technological change and disruptive business models have become commonplace. To survive, flourish and grow, modern companies must not only deliver what the market wants today, but have a focus on innovation and continually anticipate better, smarter solutions that clients will need in the future.
Link Group fully understands this. We are always looking for ways to improve our own use of technology and to develop and deliver cutting-edge solutions that help expand the businesses of our clients. One of the key ways we add value is to support our clients with products and solutions that help them meaningfully engage and interact with their members and shareholders. Our apps, web services and analytical tools are designed to help clients to build stronger relationships with their target markets and differentiate themselves from their competitors.
As we deliver these products and solutions, our aim is always to provide a full, end-to-end suite of solutions that address the entire range of challenges our clients face in doing business, instead of just a single app or web service. We firmly believe that a targeted, cohesive package of technologies delivers significantly more value than the sum of its parts.
FY2018 saw Link Group roll out, further develop, or receive recognition for a wide range of technologies that assisted clients in Corporate Markets and Fund Administration.
Corporate Markets
Investors lie at the very heart of our financial ecosystem. Link Group's technologies are continuing to make it easier for them to access and manage their investments and participate in meetings.
Launched mid-2018, our Investor Centre App provides a secure mobile platform for retail investors to access and manage their investments online.
Once downloaded onto a mobile phone or other mobile device, the app allows users to quickly retrieve information about their holdings, update their account details, confirm payment instructions and select communication preferences. They can also view their payment history, access details of upcoming AGMs and submit votes online. Security for the app is supported by fingerprint authentication and PIN options. As well as providing investors with more choice about how they manage their portfolio, the app is designed to increase their engagement in, and connection to, the companies in which they invest. In the coming financial year, we will continue to enhance the app, building on its functionality and allowing richer engagement with investors and employees.
Meanwhile, our Virtual Meeting Technology continues to make it easier for investors to engage in AGMs. Link Group made corporate governance history in 2016 by becoming the first S&P/ASX 200 company incorporated in Australia to hold a hybrid (physical and virtual) AGM. The technology has continued to win converts, with more than 20 listed companies now having used the facility in Australia and New Zealand.
In April 2018, OZ Minerals (OZL) became the first ASX-listed company in South Australia to hold a virtual AGM. Link Group provided the online platform for the AGM, which was held at Adelaide Oval. Some 114 shareholders and guests attended the physical meeting, while a further 93 attendees used the virtual meeting platform. The AGM webcast was watched by both Australian and international audiences.
The technology has also proved its worth with Australia's largest member organisation – the NRMA. In November 2017, Link Group provided the online platform for the 2017 NRMA AGM, which was held in Newcastle on the mid- north coast of NSW. Some 99 NRMA members attended the meeting in person while 76 members attended online. NRMA Company Secretary, Nick Mowat, explained, "We wanted to take the organisation to our members, rather than asking them to come to us. This innovative technology allowed us to open up a convenient channel that enables members to attend our meeting from the comfort of their own home."
Link Group also supports the work of company secretaries and investor relations professionals. This year we won the Financial Services App of the Year award at the 2018 Financial Standard MAX awards. The honour recognised the miraqle® app, a product available to clients of our investor relations company, Orient Capital, which allows listed-company executives to better manage their interactions with shareholders, even while travelling. Executives are able to track and manage their meetings with existing investors, or target potential investors, both online and offline.
This is the second year in a row that Link Group has won this award following last year's success with the Cbus Employer app.
Our work in the area of share registries was also recognised in the JP Morgan Australian Registry & ESP Provider Survey Report. Conducted annually to assess the performance of companies providing share registry services, the 2018 report included responses representing 46% of S&P/ASX 200 companies by market capitalisation.
The results provided a clear endorsement of our strategy of adding value and innovating, with Link Group receiving a score of 100%, as respondents rated our overall performance as good, outstanding, or above expectations.
Meanwhile, in a reflection of our introduction of innovations such as hybrid AGM technology and the Link Vote app, some 77% of respondents agreed that Link Group added value. There was also praise for our account management, quality of product, willingness to innovate and cost of services.
Link Group also supports HR Directors through a range of innovative solutions. One of these is Empirics People & Travel – a product that makes it simple to analyse the cost of the entire employee travel process. Developed by Link Group company Empirics, the product underwent further development in FY2018 and now unites multiple data sources to provide a single-screen overview of all travel costs. Additional functionality currently being developed will also provide industry-leading insights into employee wellness and the impacts of travel on health, effectiveness and productivity.
Empirics People & Travel's strength lies in being able to pull together all relevant data sources from within the organisation or from external sources including travel agency information, expense card data, company policy parameters, HR records, and expenses and claims. Its Key Metrics module provides an executive-level overview of costs on one screen, while the Travel Spend Analysis module identifies usage patterns with hotels and airlines to allow for improved rate negotiation. The Credit Card Expense module identifies which parts of the company are spending more on expenses such as taxis and restaurants,while the Total Cost of Trip looks at all expenses on a journey. The Global Mobility module, meanwhile, focuses on travel safety and tax obligations, while the planned Employee Wellness & Productivity module will correlate employee wellness metrics (including stress levels and travel fatigue) against employee effectiveness and productivity.
Fund Administration
Our extensive range of technology solutions for pension and superannuation administration helps our clients to add value at almost every interaction with their own customers. Solutions include mobile apps, push notifications, online portals, personalised videos and digital membership cards, all of which allow for increased engagement, provide differentiation opportunities and build relationships.
This comprehensive suite of solutions was further broadened in FY2018 with a number of new solutions, including our new Micro Investing App. Under proposed changes in the May 2018 Federal Budget, 'inactive' superannuation accounts with balances under $6,000 are to be transferred to the ATO, presenting a potential economic challenge to many Link Group superannuation fund customers. The new app aims to help address this by providing super funds with a tool for ensuring that accounts remain active and for connecting with younger, more mobile customers. Launched in FY2018, the app rounds up users' everyday banking transactions to the nearest dollar (or other chosen amount) and invests this additional spare change into their nominated super account. There are major benefits to both the fund and end user, with even small weekly contributions having the potential to positively impact a member's outcome at retirement.
Interactive Statements are another way we add value for Fund Administration customers. Despite advances in digital technology, many funds continue to use paper statements or static PDFs for this important communication channel. Link Group business Link DigiCom has provided an innovative interactive alternative, delivered via the web, which engages fund members, increases their awareness of their financial position and helps build the relationship with the fund. Members who click into an Interactive Statement are able to choose between viewing their full annual statement or a quick, point-in-time snapshot of their account. Their account information can be securely accessed, allowing for projections and calculations that are customised to the individual's circumstances.
The service is fully integrated with the fund's online Member Centre and is adapted to individual fund branding. The statements are mobile responsive for optimal viewing on smart phones and tablets. This technology also has potential in other sectors where statements form a key part of company-to-customer communication, such as banking and insurance.
Providing financial advice is an increasingly important tool for superannuation funds wanting to engage their member base. To facilitate this, Link Group business Link Advice released Super Blueprint 3.0, a digital advice application for fund members. The mobile-first technology is designed to be distributed by funds and allows members to access advice on subjects as diverse as investment choice, retirement adequacy, intra-fund superannuation options and insurance.