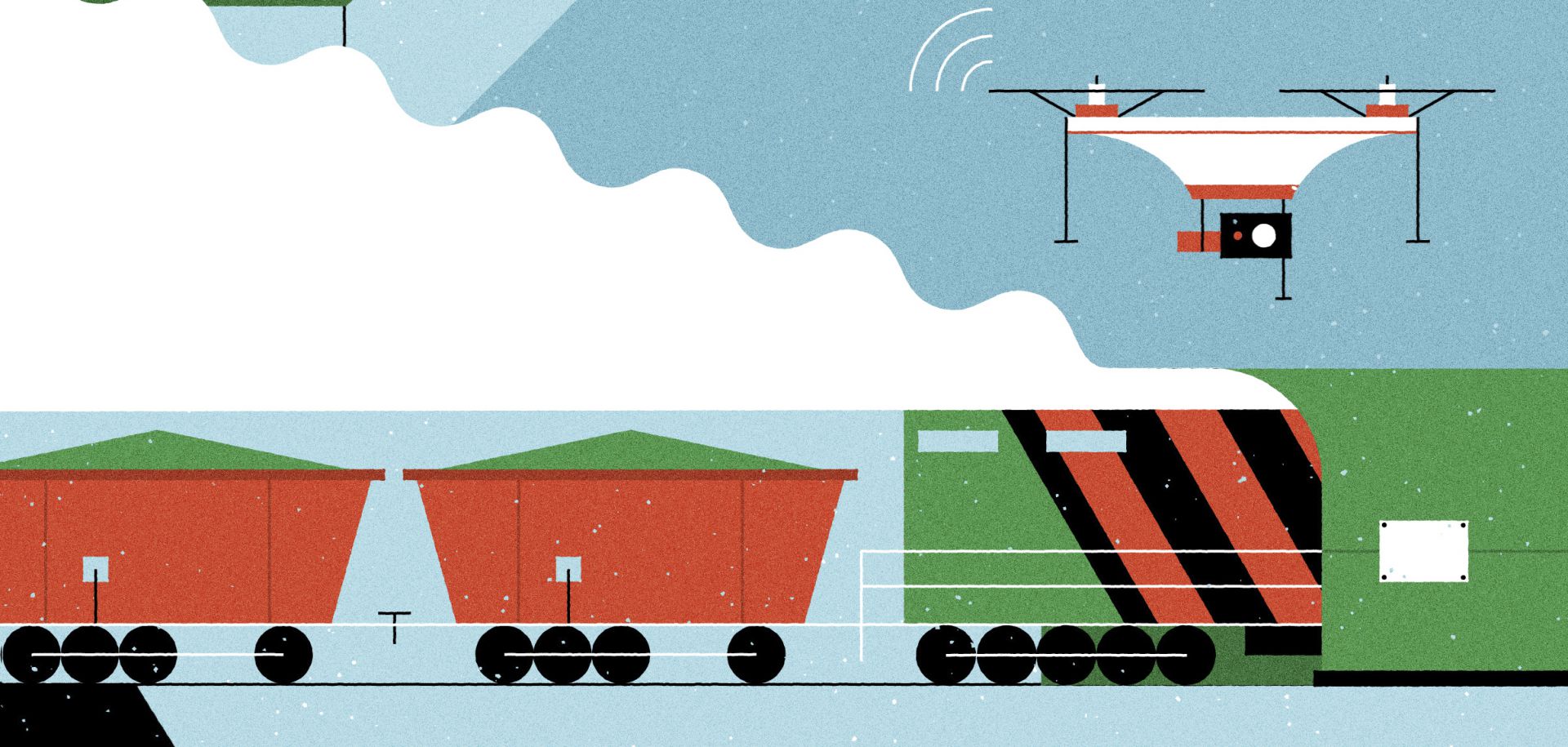 Industry's next big wave
CLIENT: Appelberg Publishing Stockholm
PUBLISHED: SKF Evolution website
ORIGINAL ARTICLE: Industry's next big wave
CREATED: June 2018
AUTHOR: Fallon Dasey
The fourth Industrial Revolution, the Industrial Internet of Things, is now sweeping the planet. In part, it promises to boost industrial efficiency and productivity, in the process adding 12 trillion euros to the global economy by 2030.
Towards the end of 2017, a heavy iron ore train pulled out of the town of Tom Price in Western Australia's Pilbara mining region and drove 100 kilometres down the track to the settlement of Paraburdoo.
The journey along the dusty desert railway was mostly uneventful and unremarkable, except for one key thing: there was no human being on board. Instead, the train operated by mining company Rio Tinto relied on an array of sensors communicating with computer processors and a remote command centre to guide it precisely down the tracks. The successful trial was expected to open the way for the world's first fully autonomous heavy-haul long-distance railway by the end of 2018, and it demonstrates the remarkable potential of the Industrial Internet of Things (IIoT) – the network of connected machines that is transforming the way industry works.
"If you mentioned the Industrial Internet of Things a couple of years ago, many people would have dismissed it as a fad," says Brian Buntz, content director with the IOT Institute, the leading Internet of Things news site and community. "But today we're seeing a major investment in the area across the planet. Manufacturers in China are trying to maintain their competitive edge, the US is trying to bring back manufacturing from China, and across Europe there's government backing of smart factories."
While definitions vary, the Industrial Internet of Things is typically viewed as part of Industry 4.0, the fourth wave of industrialization to sweep the world since the Industrial Revolution of the 18th century. While the second wave centred on production lines and globalization and the third one on the Internet and robots, the fourth, IIoT, centres on the use of big data, connected sensors, autonomous machines and artificial intelligence. It involves taking the Internet of Things – the ecosystem of connected devices that powers such things as your Google home assistants or Fitbit fitness trackers – and applying this in an industrial context.
By fitting sensors to industrial components, introducing connectivity to systems, harvesting data and using sophisticated computer processing, companies hope to reduce reliance on menial human labour and boost productivity and efficiency. The full potential of the IIoT is still being explored, but a 2017 report by computer company IBM identified some of the most immediate benefits to industry: predictive maintenance, smart metering, asset tracking, connected vehicles and enhanced fleet management.
Analytics company Industry ARC expects the global value of the IIoT market to reach more than 105 billion euros by 2021, while consulting firm Accenture's Winning with the Industrial Internet of Things report estimates the technology could add 12 trillion euros to the global economy by 2030.
It's still relatively early days for the IIoT, but Buntz says there are plenty of examples of companies using the technology in transformational ways.
"We are at a time when new technology, once again, enables better ways for producers or service providers to do business – like pay for the performance you achieve, not for the products themselves. Why was this not already done? Well, a major reason is that the information to measure and improve 'performance' was not there. To me, IIoT is about using real-time data from multiple sources and draw conclusions (turn data into information) so that (automated) action can be taken before anything happens. 'Action' can mean to correct process parameters in real time, to tune the lubrication system, to order parts in advance…and much more. Machine learning and AI (artificial intelligence) are fundamental to IIoT, or we will be overwhelmed by signals, data and information."
In addition to Rio Tinto's nearly complete autonomous railway, it also uses connectivity to link together and power a fleet of autonomous mining trucks, drills and drones at its plants, increasing efficiency and taking humans out of harmful environments.
Sensors on the industrial robots used by robotics firm ABB tell operators when maintenance is required, eliminating the need for routine scheduled maintenance and reducing downtime. Global distribution company Amazon uses Wi-Fi-connected robots in place of humans to locate and fetch products from warehouse shelves to fill customers' orders.
Erik Walenza operates the IoT ONE website, which connects IIoT vendors with companies and organizations that need IIoT solutions. As well as providing listings of use cases and IIoT solutions, the site features a Top 100 IIoT index of standout vendors, based on community polling and analysis of company offerings. He cites technology companies IBM and Intel, software company SAP, networks company Cisco and conglomerate General Electric as five of the consistent leaders within IIoT.
"IBM has a consulting focus, which means they're very focused on using cases and adapting their solutions to markets, while SAP has been a leader in creating an open IoT platform that other companies can plug third-party apps into," says Walenza. "Cisco is pushing hard with technical innovations to eliminate adoption bottlenecks in areas like edge computing and cyber security, while Intel, like SAP, is extremely collaborative due to the horizontal nature of their technology. GE is pushing capability boundaries with its Predix industrial cloud-based platform."
In light of all this, what does the future hold for the IIoT sector? Both Buntz and Walenza predict challenges as well as immense rewards.
One challenge will be the massive amount of data accumulated by the multitude of sensors being added to industrial processes and machinery. This will increase efficiency and allow for all kinds of new services, but without adequate security the data could be stolen by cyber criminals or rival corporations.
Another challenge will be determining who owns the data collected from, say, a network of connected vehicles. Is it the manufacturer who uses the data to provide service or the equipment owner?
Regardless of how these challenges are solved, there's very little doubt IIoT will transform every kind of industry in the coming years. "As prices for IIoT technology continue to come down, the business case becomes clearer," says Walenza. "If you step into a factory 15 years from now, you might not even recognize what you're seeing."
SKF and the IIoT
SKF has long recognized the importance of digitalization within industry. The company began pioneering some of the elements that form the Industrial Internet of Things (IIoT) many years ago and has been monitoring equipment remotely for 15 years. Today, SKF monitors about 1 million bearings connected to the Cloud.
SKF Insight is a wireless condition-based monitoring system for bearings that measures variables such as vibration levels and temperatures to spot anomalies at an early stage, reducing the need for unplanned downtime and stoppages.
Working with partners Siemens and Bombardier, SKF also supplies tapered roller bearing units with integrated sensors for use in the new ICE 4 passenger train to be used on the 6 billion euro Deutsche Bahn (German Railways) project. The bearing sensors monitor speed and the direction of rotation, with the data generated and then used by the train's braking system.
In fixed plant installations, SKF is engaged in performance contracts where process and machine data is crucial for process optimization, seamless maintenance stops and maximized uptime.
The company recently opened a software centre in Sweden dedicated to developing next-generation technology for data collection, analysis and automated diagnostics. It is also developing mixed-reality solutions that will enable technicians to see an overlay featuring technical data, instructions and real-time information on machine performance when undertaking inspections.