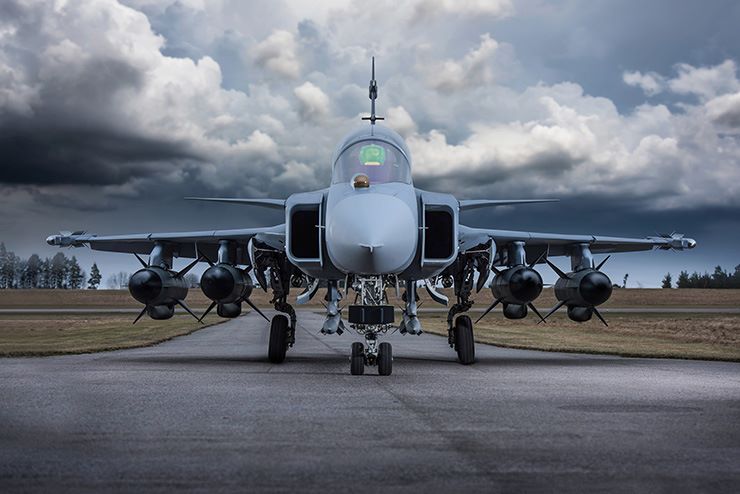 Engineering hot spot
CLIENT: Appelberg Publishing Stockholm
PUBLISHED: Saab Group website/Facebook
ORIGINAL ARTICLE: Engineering hot spot
CREATED: May 2018
AUTHOR: Fallon Dasey
Since opening in 2017, the Saab Technology Centre in Tampere, Finland, has helped to develop technologies for the Gripen fighter and airborne early warning and control aircraft. Now, its role is being expanded to focus on important technology for the next generation RBS15 missile.
They say that every cloud has a silver lining. So, while the shrinking of Finland's telecommunication industry in recent years has led to many job losses, it has also made the country extremely attractive to international companies seeking first-rate engineers.
Saab has recently recognised the enormous wealth of engineering talent available in Finland through the creation of a new research facility tasked with developing technologies for several of its key programs. Based in Tampere, the Saab Technology (STC) employs 10 engineers – and its workforce is growing rapidly as it takes on new roles.
"There are very good people available in Finland at the moment," says Pekka Halme, a development engineer at the Tampere STC. "There's also a great deal of interest in what Saab is doing. We're being approached by people from many engineering disciplines and we're able to employ the very best, most-experienced engineers."
Microwave technology and software
Halme explains the technology centre's initial focus has been on electronic warfare. "The centre was established in 2017 to help develop electronic warfare systems for the Gripen fighter and also for airborne early warning and control aircraft," he says. "We're also developing electronic support measures for various land-based systems. The main focus areas are microwave technology, application software and embedded software."
Additionally, the STC is working closely on long-term projects with one of Saab's research partners in Finland, Aalto University. Saab and the university entered into a 10-year program at the beginning of 2017 that will see them work together to develop innovations in the areas of microwave technology, sensor technology and hydro-acoustics. The total value of the agreement is EUR 20 million.
Expanded role for STC
Halme explains that in 2018 the STC's overall role has been expanded to include work on the next generation RBS15 anti-ship and land attack missile. "We're now working to develop parts for the active radar target seeker for the RBS15," he says. "This is what allows the missile to accurately find its target in all weather conditions."
Head of Marketing & Sales for Missile Systems at Saab Dynamics, Michael Höglund, explains the fact that the RBS15 has a target seeker that is extremely accurate over long distances has long been a key selling point. "The range of the first-generation RBS15 was about 100 kilometres and by the third generation that range had grown to more than 200 kilometres," he says. "The next generation is being delivered in the mid-2020s and will have a range of more than 300 kilometres."
Major investment in target seeker
Höglund says one of the major upgrades for the next generation missile will be in its target-seeking capability, meaning the work being done at the STC in Tampere is crucial to the weapon's success. "We're adding an even more sophisticated target seeker, and upgrading both the software and the hardware," he says. "That's where we're making the biggest investment, so it's a significant part of the project."
Höglund says defence forces across the planet already rely on the RBS15 system. "The RBS15 also plays a major role in the defence of the Baltic Sea, where the Mk3 is currently used by Germany and Poland," he says. "Meanwhile, Finland and Sweden are both important, long-standing users of the Mk2. Sweden has recently invested in the next generation of RBS15 and will be leap-frogging directly to the new system."
Looking ahead, Halme expects the STC in Tampere to remain involved in cutting-edge Saab projects and to continue expanding. "So far, we have only been working with electronic support measures like passive sensors, but now the plan is to expand into the electronic attack domain," he says. "We are currently recruiting more people and the aim is to double by the end of the year."