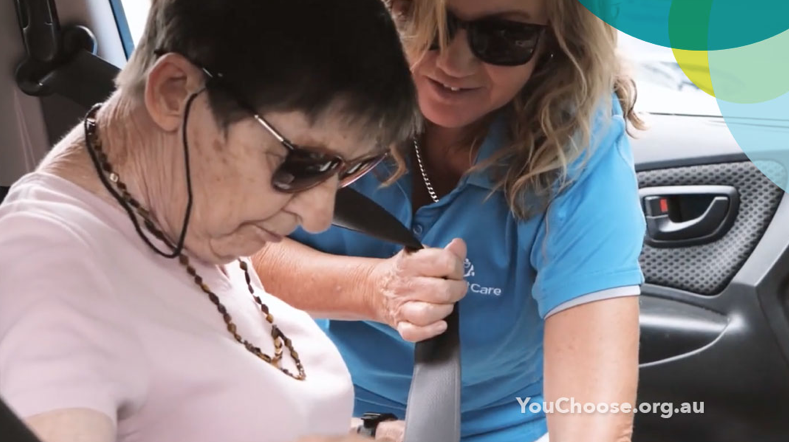 Client Stories – Katherine
CLIENT: Be You Not Them
PUBLISHED: BaptistCare YouChoose website
ORIGINAL ARTICLE: Client Stories – Katherine
CREATED: May 2019
AUTHOR: Fallon Dasey
Throughout her life, Katherine Brennan has faced the challenges posed by her cerebal palsy with a mix of good humour and persistence. Now, BaptistCare is helping her embrace ageing the same way.
Katherine Brennan knows a thing or two about determination and independent living.
Despite the challenges of living with cerebral palsy, she has led a full and busy life, managing to live in her own home for long periods of time, hold down a long-term job, write articles for a newsletter and perform in theatre productions.
Now at 73, she is facing the challenges of ageing with the same energy and positive focus. "I have a wheelchair, but I don't want to use it," says Katherine, who lives in Tweed Heads. "So, I go for walks and try to exercise. I go to the pool when I can. It's hard work, but I want to keep on walking."
Transport services and daily excursions
BaptistCare is proud to be supporting Katherine's quest for a meaningful life by providing transport for her and accompanying her on outings, as well as other support services.
Katherine explains she has never known a life without physical challenges. Complications during her birth led to the onset of cerebral palsy, a type of brain damage that severely impairs muscle control and posture. Katherine's mother was urged to place her in an institution, but instead she worked tirelessly to help her daughter develop her coordination and verbal skills. While the process was painful, lonely and difficult; Katherine's sense of humour and determination helped her through. She learned how to walk and communicate with others.
Katherine's life
Katherine achieved a major personal milestone in 1976 when she moved into her own home in the Brisbane suburb of New Farm. It proved a huge struggle, but she persevered and also held down a job with a disability services provider for more than 20 years.
In the 1980's, Katherine learned how to read and write and took to both so well she began contributing to a local newsletter. She moved to Bribie Island in 2009, but after a fall decided to move to an assisted-living community in Tweed Heads in 2016.
Pets have made Katherine's life richer for many years and she now has a ragdoll cat named Tipsy with whom she shares her home.
NSW ACT Aged Care Home Care Companionship alongside independent living
Katherine has a level 4 Home Care Package and she began using BaptistCare's Home Services about 12 months ago.
BaptistCare staff, including support worker Christine, visit Katherine in her home most days and take her on a variety of life-enriching excursions.
"It's absolutely wonderful and has changed my life so much," says Katherine. "It can take a while for some people to get to know me, but Christine and I are one of a kind. She comes twice a week and we might go to the club or to the beach sometimes. Sometimes we go to a little place where they have good fish and chips, and pancakes."
While getting out and about is important, Katherine particularly values the respect that Christine provides her. "Unfortunately, some people think that they have to talk down to people with a disability," she says. "What I like best about the visits from BaptistCare is that I get to have a bit of adult conversation."
Learning new skills
Katherine is determined to keep learning. BaptistCare workers Wendy and Ian have recently been arranging her next challenge – a PC. "I'm dying to get a computer," Katherine says. "I like playing solitaire. It's been organised by BaptistCare and should arrive soon. I might even visit the BaptistCare website."
Katherine is also proud of another recent victory – appearing on stage in a theatrical production. Despite some nerves, the performance was very well received and Katherine soaked up the limelight. "It was wonderful," she says. "The audience just clapped and clapped."
YouChoose by BaptistCare offers people in aged care a range of services to help them to remain socially active and to maintain and develop friendships. To find out more, contact the BaptistCare Customer Engagement Centre on 1300 275 227 or visit www.youchoose.org.au.