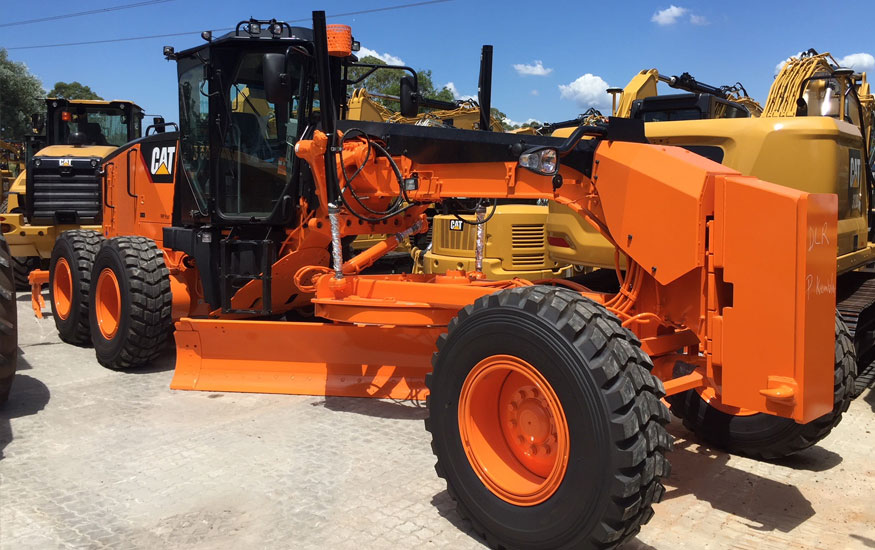 Cat motor graders go to work at the RMS
22 distinctive orange-painted Cat graders to service regional NSW after a deal between WesTrac and FleetPartners
Nearly two dozen Cat motor graders are heading into service with the NSW Roads and Maritime Service (RMS) following a major deal between WesTrac and leasing solutions provider FleetPartners.
WesTrac is supplying FleetPartners with 22 Cat 140M graders which will be leased to the RMS over a period of five years and used by its Regional Maintenance Delivery division. The motor graders are being painted with the RMS's distinctive orange livery before going into service in remote rural locations including Broken Hill.
"We are delighted to see Cat motor graders returning to the RMS fleet after an absence of a few years," says WesTrac General Manager for Construction & Infrastructure, Alister Cant. "This outcome is the result of close and constructive cooperation between WesTrac and FleetPartners, and being able to present an attractive product and service offering to the RMS."
The deal initially involved WesTrac providing FleetPartners with eight Cat 140M graders for use by the RMS at Narrandera, Narrabri and Broken Hill. These were delivered in May and June. A further 14 graders have subsequently been ordered and will be provided by year's end. These will go into service in areas across NSW including Narrandera, Hay, Narrabri, Tamworth and Ballina.
Con Veneziano, Head of Commercial Vehicles at FleetPartners, explains that FleetPartners has provided WesTrac with leasing and fleet management services for several years. However, this is the first major deal of this nature.
"The product and after sales support that WesTrac and Cat were able to provide for this deal ensured that we could provide the best 'fit for purpose' outcome for our client, the RMS," he says. "The cooperation with WesTrac in bringing the deal together was fantastic. They provided a wealth of knowledge and all the RMS requirements were catered for."
Crucial to the success of the deal was WesTrac's offering of a five-year/6,000 hour premier warranty which matched the lease term and annual utilisation as stated by the RMS. This greatly reduced risk to both FleetPartners and the RMS. WesTrac also has a wide regional product support footprint in case of a machine needing repairs.
Factoring in the high resale price of Cat graders also allowed FleetPartners to offer the RMS a very competitive leasing rate.
Alister Cant says the graders to be used by the RMS are being painted in a distinctive orange livery at the factory prior to deliver. He says while most Cat equipment is provided in Caterpillar's iconic black and yellow livery, there is a trend for customers to request other colours. "We have seen one customer request pink and blue graders to show their support for the McGrath foundation and Beyond Blue," he says. "Another customer has black Cat graders in their fleet."
Con Veneziano says following the success of the cooperation with WesTrac on the project, FleetPartners is looking for opportunities for future collaboration. "We are currently working together on more deals involving the RMS, as well as future potential deals with a number of our other clients," he says.
ABOUT FLEETPARTNERS
FleetPartners is part of Eclipx Group, an ASX-listed diversified financial services company and leader in vehicle fleet leasing and fleet management. The Group is a market leader in vehicle mobility solutions including fleet leasing, fleet management and diversified financial services in Australia and New Zealand.
MORE INFORMATION
Danielle Bull
WesTrac General Manager Marketing and Strategic Projects
0477 334 887
Danielle [dot] Bull @ westrac [dot] com [dot] au