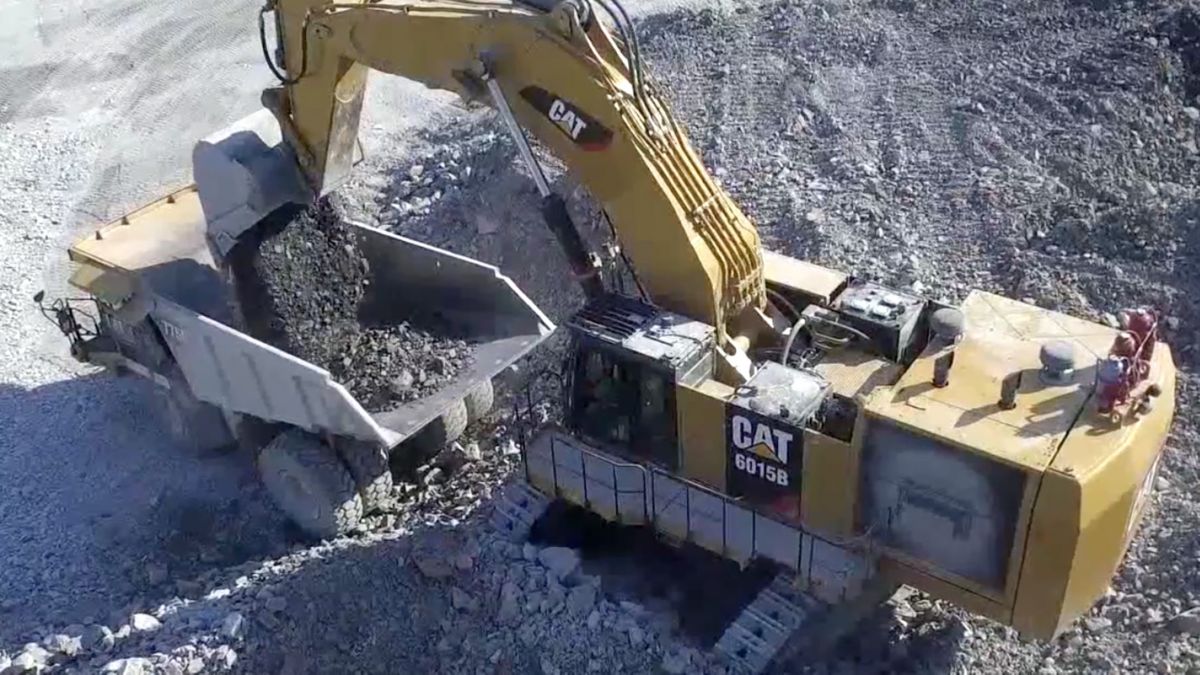 Cat 6015B boosts Hampton's efficiency
CLIENT: WesTrac
PUBLISHED: WesTrac website
CREATED: March 2018
AUTHOR: Fallon Dasey
Sometimes it pays to go first. Kalgoorlie-based contractor Hampton Mining and Civil snapped up the very first Cat 6015B excavator in the Australian market and has been rewarded with increased productivity and outstanding fuel efficiency.
When you're a mining and transport contractor working in the goldfields of Western Australia, productivity is everything. The more economically you can extract ore, load it, and transport it to the mill, the greater your payday.
So, when General Manager Bart Jones from Kalgoorlie-based contractor Hampton Mining and Civil heard that an efficient new Cat hydraulic shovel was about to hit the market, he was keen to put it to the test. Weighing in at 140 tonnes, the Cat 6015B was bigger than the excavators Hampton had been using to load ore at the Fortnum gold mine and came with an impressive 8.1 cubic metre rock bucket and a frugal 27-litre engine.
"At Fortnum, we're doing a cutback on an existing pit," Bart explains. "We've been using mostly 120-tonne diggers, but we wanted to add a couple of bigger diggers to work with the Cat 777 trucks. At the same time, we didn't want a machine that was so big that it could only work on large ore bodies."
After completing an inspection at WesTrac in Perth, Bart purchased the first 6015B on the Australian market and put it to work at Fortnum in July 2017. Eight months and 3500 hours of operation on, he says the machine is paying major dividends.
"It's a good machine and it's done exactly what we expected of it – only with a few pleasant surprises. For one thing, we didn't expect that the fuel economy would be as good as it is. So, we're very happy with it."
Bart says the biggest advantage of the 6015B is the gain in productivity. "In areas where you have to shift a bit of dirt reasonably quickly, it's letting us dig faster. We're able to add another truck into the circuit and dig more material," he says.
Another win is fuel savings, with the 6015B proving far more fuel efficient than the 120-tonne diggers it works alongside. "It's got a 27-litre engine compared to the 23-litre engines on the 120-tonne diggers, but the fuel consumption per hour is about the same. Plus, it's digging more BCMs per hour. So, your cost per BCM fuel wise is actually very impressive."
Strong undercarriage
Bart says other strengths include a big, strong under carriage that easily handles blue rock simplicity of transportation. "Its quite an easy machine to shift," he says. "With a 200-tonner, you have to just about pull them apart, but with the low-profile cab we don't have to take the cab off. All we do is pull the stick and bucket off, and bang – away we go."
David Giltrap operates the 6015B at Fortnum and says the shovel is well balanced and sits evenly and firmly on the working surface. "I've found the Cat digger very reliable and easy to operate," he says.
WesTrac's Hampton Account Manager Fintan Kearns says it's not surprising that Hampton has become the first company in Australia to purchase a 6015B given their reputation for innovation. "They are very interested in continuous improvement and certainly not scared of taking an opportunity," he says. "Production and cost per tonne is vital to both their profit margins and their clients' profit margins. The existing 6015B has exceeded all expectations and this has led to the purchase of a second machine due for delivery next month"
WesTrac's Product Manager for Drilling and Mining Shovels, Greg Wear, says the 6015B fills an important niche at the top end of the construction excavator market and at the smaller end of the mining shovel market. "It's a sweet pass for trucks with up to 100-tonne payload," he says. "It will load Cat 773, 775 and 777 off-highway trucks in four, five and seven loads, respectively."
Strong demand for 6015B
Greg says the 6015B brings operators major advantages in the areas of productivity, reliability and efficiency. It's big bucket and powerful engine help it move more dirt than competitors, and because it is built from proven Cat components it will deliver superior uptime and serviceability.
"There's also a number of sophisticated technologies in there that keep the fuel consumption very low, including engine control technology, regenerative energy technologies, and a boom float to regenerate the boom oil to reduce engine load."
Greg says Hampton is far from alone in seeing the value of the 6015B. "People have been waiting to see how this machine performs and interest is high," he says. "We're expecting to sell a lot of these."