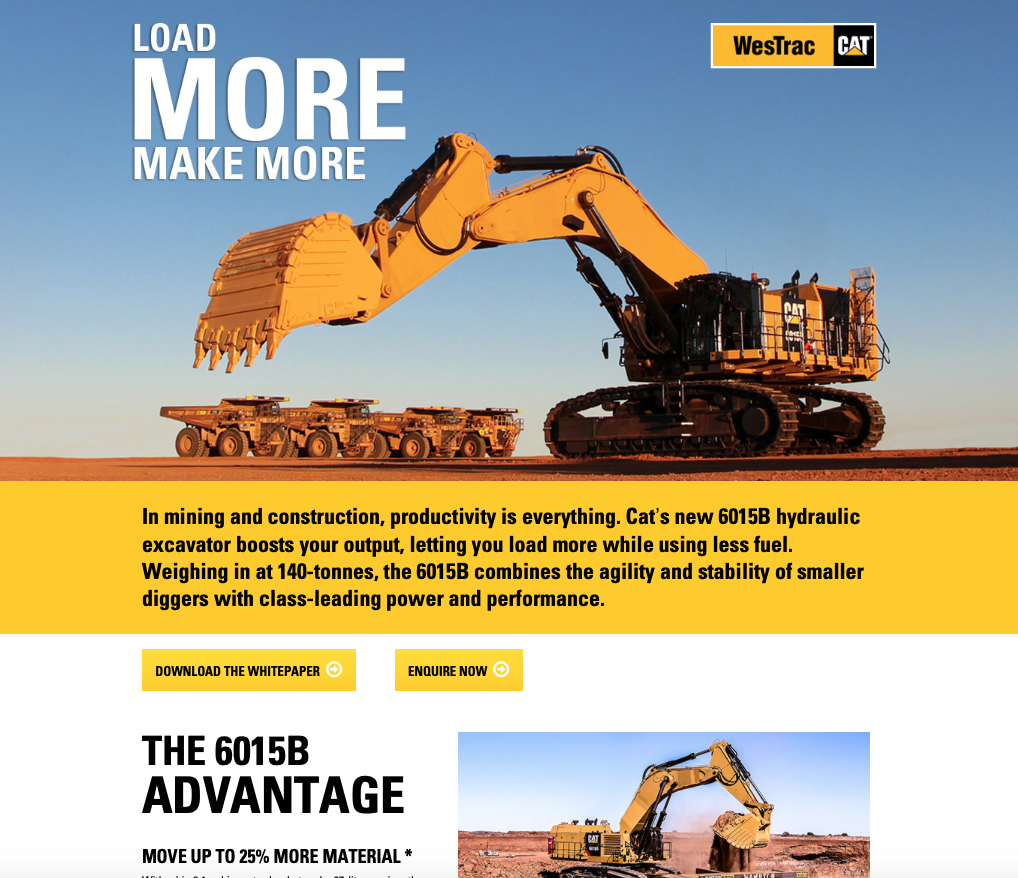 MOVE MORE, MAKE MORE
CLIENT: WesTrac
PUBLISHED: WesTrac website
ORIGINAL ARTICLE: Cat 6015B campaign site
CREATED: March 2018
AUTHOR: Fallon Dasey
In mining and construction, productivity is everything. Cat's new 6015B hydraulic excavator boosts your output, letting you load more while using less fuel. Weighing in at 140-tonnes, the 6015B combines the agility and stability of smaller diggers with class-leading power and performance.
THE 6015B ADVANTAGE
* MOVE UP TO 25% MORE MATERIAL
With a big 8.1 cubic metre bucket and a 27-litre engine, the 6015B moves material quicker, meaning fewer cycles are needed per truck. You'll get the job done faster and be able to move on to the next task.
* MORE FUEL EFFICIENT
In recent tests, the 6015B proved to be 9% more fuel efficient, meaning you'll spend less per bank cubic metre. Just think what that will add up to over the life of the machine.
* 1-PASS TRUCK MATCH ADVANTAGE
The Cat 6015B sits in the ultimate sweet spot for filling off-highway trucks. Its bucket will fill Cat 773, 775, and 777 trucks, at 4, 5, and 7 passes, respectively, meaning more trucks loaded per shift and outstanding production efficiency.
* PROVEN RELIABILITY
Cat products have proven themselves time and time again in heavy construction, quarry and mining applications. The 6015B features a Cat C27 engine with industry-leading ACERT Technology designed for efficiency and reliability.
* MAXIMUM AVAILABILITY
Uptime matters. With Australia's largest dealership footprint including 26 branches in WA and NSW plus over 250 mobile field service technicians, WesTrac provides the parts inventory and expertise to keep your machines reliable and available.
"In areas where you have to shift a bit of dirt, reasonably quickly, it's letting us dig faster. We're able to add another truck into the circuit and dig more material."
Bart Jones
Hampton Mining and Civil
READ THE FULL CUSTOMER STORY HERE
Finally, the solution that mining and construction operators have been waiting for. The 6015B fills a long-standing gap at the top end of the construction excavator market and at the smaller end of the mining shovel market. It will help boost your productivity, while cutting fuel consumption.