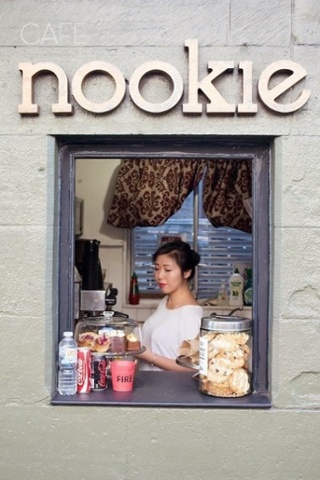 Thinking outside of the box.
Small really can be beautiful. Just ask the operators of Australia's growing number of micro-cafes, who are serving up great coffee from venues as small as three square metres. Good planning and the efficient use of space helps them stay profitable and in business.
Tina Chen's workspace is smaller than many people's closets. The owner and operator of Café Nookie, Chen serves up coffee, pastries, and pies to residents of Sydney's Surry Hills from premises measuring an incredible 1.5 x 2 metres – just three square metres.
"Don't judge us by our size," she says with a smile. "We may be small, but we serve some of the best coffee around."
Chen believes Nookie, which was established in 2009, is Australia's smallest café. The tiny kitchen has just enough space for a coffee machine, grinder, microwave, pie warmer, and sink.
"There's not enough room for two people, and probably not even one person who was bigger than me." Chen paid for a plumber to re-route the waste water from the coffee machine directly out of the café to create more space. "You have to make use of every single square inch," she says.
Despite its size the business is thriving. A steady stream of patrons begins queueing up for coffee from the moment the café opens its shutters at 7am, Monday to Saturday.
With population densities increasing around the country and higher rents putting pressure on business operators, Chen is far from alone in running a micro-café.
A contender for Melbourne's smallest café is Cup of Truth, a 3.5 x 1 metre venue in Flinders Station that has been built on the site of an old ticket booth. In Perth, coffee lovers regularly queue for a coffee from micro venue Boo Espresso, which operates from a 4 x 2 metre hole in the wall. A contender for the smallest coffee venue in Sydney's CBD, meanwhile, is Fuerza Bruta, whose premises are just seven square metres.
Smaller venues are among the types of hospitality operations that can benefit from the BRITA Professional Bottling System. About the same size of a milk crate, the system is easily installed to filter tap water to produce chilled, premium-quality still and sparkling water. This eliminates the need to buy, store and refrigerate bottled water, frees up much needed space, and can create a handy new revenue stream.
Tim Bonaguro, BRITA Australia Sales Director for Professional Products, says a range of small operators around the country have introduced the system. "Because space comes at a premium, smaller operators are looking for things that can save space, and we're part of providing that solution," he says. "There are a number of ways it can be used. In the coffee space, sparkling water is a palate cleanser and providing it really improves the quality of the coffee drinking experience."
With the system costing as little as $9 a day to run, operators who upsell customers to a bottle of filtered BRITA water for $3 can easily generate significant extra revenue, boosting profitability. "The BRITA Professional Bottling System is a fantastic way for restaurants and cafes to generate incremental revenue for their business very simply, and we can tailor a customised solution to suit any small space venue"." says Bonaguro.
Download The BRITA Experience catalogue for Restaurants and Cafes here to find out how to save space and generate more incremental profit.