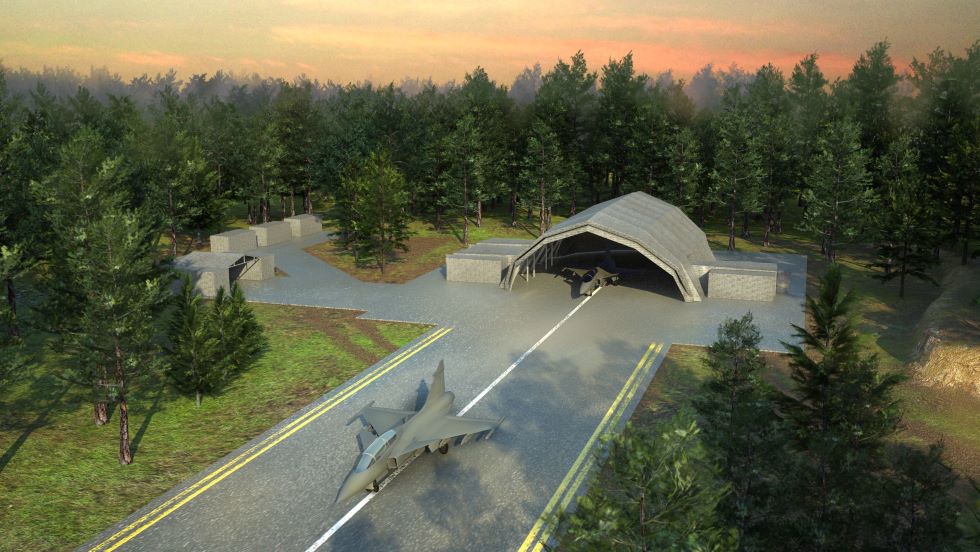 A solution for home and away
CLIENT: Appelberg Publishing Stockholm
PUBLISHED: Saab Group website/Facebook
ORIGINAL ARTICLE: A solution for home and away
CREATED: April 2017
AUTHOR: Fallon Dasey
Saab's transportable aircraft hangars and maintenance containers have proven their worth time and again on the frontline of conflicts. The next generation Deployable Aircraft Maintenance (DAM) facility is also ideal for domestic use, offering the strength and durability of a fixed facility at a fraction of the cost.
Saab's Deployable Aircraft Maintenance (DAM) facilities provide a highly effective solution for armed forces who need to service aircraft close to the frontline of a conflict.
Lightweight and easy to transport, DAM systems can be erected in less than 48 working hours and provide a spacious working environment capable of housing all makes of fighter jet as well as a range of helicopters.
You could be mistaken for thinking that such an agile system would be of little use in the domestic environment where there are high demands on hangar strength and longevity.
But as Christoffer Rashdan from Saab business area Support and Services explains, DAM's robustness and durability mean that it can be used as a permanent solution at a fraction of the cost of a conventional fixed hangar and workshop. "DAM facilities are the equal of a fixed building," he says. "They comply with the same requirements for structural strength, so you are not compromising on durability or the overall strength of the hangar. And in many cases the cost is far lower than building a fixed structure."
The DAM system compromises a strong, light-weight aluminium frame covered with high-strength PVC fabric to provide a hangar space measuring 38 metres long, 20 metres wide, and 8 metres high. Saab Barracuda camouflage provides DAM facilities with multispectral protection against visual, near infrared, short-wave infrared, thermal infrared, and broadband radar signal detection. A range of modular maintenance containers allow users to tailor DAM facilities to their individual needs.
Individual DAM hangars can house up to two Saab Gripen fighter jets, or a range of helicopters and land vehicles. Because the system is modular, additional mid-sections can be added to extend the length and capacity to any desired length.
In combat environments, this combination of features provides deployed air forces with a professional, sealed environment for undertaking maintenance, allowing for maximum levels of uptime. Saab transportable hangars and maintenance container systems are used by both the Swedish and Italian armed forces and have proven their worth in theatres such as Afghanistan.
Rashdan says in domestic use DAM's ability to rapidly create a high-quality working environment is also a major asset. "DAM can be extremely useful in situations where a nation is hosting a visiting air force, or where a base is hosting a visiting air wing," he says. "Or you might need an interim solution while constructing fixed infrastructure or at a base that is only used occasionally."
In such situations, DAM facilities can be quickly erected, provide a high-quality working environment, and can then be removed and deployed elsewhere when no longer required.
However, Rashdan says there are also many reasons to use the DAM system for permanent facilities. In a European nation such as Sweden, a DAM facility can be erected for less than two thirds the cost of a conventional fixed structure and offers equal strength and durability. If at any time needs change, the DAM facility can be simply removed – something that would be impossible with a conventional fixed structure.
Different configurations of DAM facilities can provide a complete maintenance and storage environment at just about any location.
DAM hangars come equipped with lights integrated into the support structure and heating, ventilation and air conditioning can easily be added. They have clam shell motorised doors at the front and back to provide a completely protected sealed environment for maintenance.
Saab Deployable Aircraft Maintenance Facilities
Modular. The basic configuration is 38 metres long, but length can be increased indefinitely through the use of additional mid sections. Modular maintenance containers can be added to meet specific usage needs and applications.
Camouflage equipped. Saab Barracuda camouflage provides multispectral protection against visual, near infrared, short-wave infrared, thermal infrared, and broadband radar wavebands.
Multi-purpose. The base configuration can accommodate all modern jet fighters and a range of helicopters from attack to utility to multi-role. It can also be used to accommodate other vehicles.
Fast assembly time. Can be assembled in just 48 working hours.
Highly durable. Suitable for long-term deployment over many years. Meets the same structural strength requirements of fixed structures.
Different configurations of DAM facilities can help address all maintenance and storage needs. An array of DAM facilities could, for example, be used to service helicopters, fighter jets, and store parts for both.
The complete DAM solution comprises the hangar, customisable maintenance containers, and Saab Barracuda camouflage.