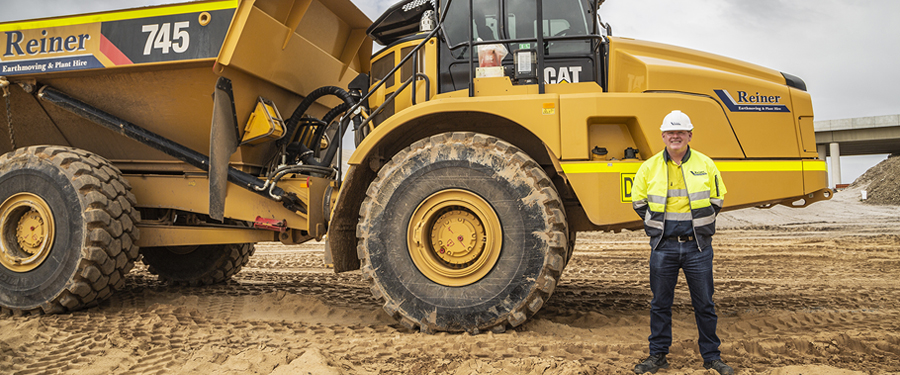 A real crowd pleaser
CLIENT: WesTrac
PUBLISHED: WesTrac website
ORIGINAL ARTICLE: A real crowd pleaser
CREATED: May 2018
AUTHOR: Fallon Dasey
With a host of features aimed at boosting productivity and ease of operation, the new Cat® 745 articulated truck is the perfect fit for Reiner Earthmoving's fleet.
Rob Reiner's business philosophy is to go above and beyond for his customers.
The owner of Perth-based Reiner Earthmoving, Rob hires out plant equipment to some of the state's biggest civil mining operators, and he works hard to keep customers happy and their operations productive.
So, when he decided to expand his fleet of articulated trucks, he had high demands of the new vehicles. "Our machines need to deliver on site in terms of productivity, reliability and fuel efficiency," Rob says. "But as a former operator, I also know it's important that the person operating the machine finds it simple to use and enjoys being in the cab."
After a long search, Rob found his solution in the new Cat 745 from WesTrac. With its 23-cubic-metre/41-tonne capacity and 18-litre Cat C18 engine, the truck is the successor to the Cat 740B widely used in Australia and the Cat 745C used internationally. Reiner Earthmoving now has four 745s in operation in locations across Western Australia.
"The Cat 745 is a fantastic truck," says Rob. "The contractors appreciate all the new productivity features – and the operators love using it!"
Explored all the options
While Rob's fleet includes a number of Cat machines, such as artic trucks, water trucks, dozers, loaders and excavators, he was still determined to investigate all the options on the market before buying. He discounted one rival brand because he wasn't satisfied with the parts and servicing network it provided. He also ruled out a European truck brand because they couldn't provide the level of customer support he needed.
After discussions with WesTrac Construction Account Manager Matthew Curtis, Rob ordered two Cat 745 trucks for his fleet and was given the chance to travel to the UK to see the vehicles on the Caterpillar production line at the articulated truck factory at Peterlee. He was so impressed by the commitment of Caterpillar to solve problems, the honesty of the team, and the quality of the build that he ordered two more 745s from WesTrac on his return to Australia.
Two of the vehicles are now hard at work on the NorthLink WA road infrastructure project north of Perth where they have impressed both operators and other contractors working on site.
The 745 has a bigger engine than the 740B Rob was familiar with and a totally new transmission. The cab of the truck has been completely re-designed with owners and operators in mind.
Rob says one of the best new features of the 745 is a combined hoist and transmission lever that significantly reduces clutter in the cabin. "It's fantastic ergonomically – you just need the one lever," he says. "The operators using it are excited. They say you don't need to pull it hard – you just touch it. And another great feature is that the park brake is now integrated into the gear lever which means you're not looking around for a little red button."
Another major plus for Rob is Cat DETECT with Stability Assist which warns the operator if the machine is at risk of tipping over. If the truck is approaching an unsafe situation, the operator is unable to raise its bed – reducing the risk of accident. Rob has also been blown away by the sophisticated traction control system of the 745. "One of the operators took the 745 up ramps of dry sand and it didn't stop, didn't get bogged down – it just got up there. Sand is one of the most difficult materials to deal with. If you can back a truck up with a load on in a ramp area on a steep angle and you're not slipping or wrecking the machine, that's good for production."
Cat Connect Safety
Rob also rates the line of sight in the new cab. "Caterpillar has taken away the rear side pillars, so that the structure of the cab is directly behind you now. So, when you look to your right or left behind you to back up, that view is unhindered, so you can see a lot more and feel more confident. I don't know any other truck that does that. It's so much better."
While fuel efficiency isn't a key concern for hire operators, Rob says it's clear the new 745 also uses less fuel. "It's getting to the point where fuel is a big issue for contractors, especially as the price keeps going up."
So, is Rob satisfied with his decision to buy 745s? "We have customers who are already earmarking the 745s for future projects because both they and the operators love using them," he says. "I couldn't be happier."