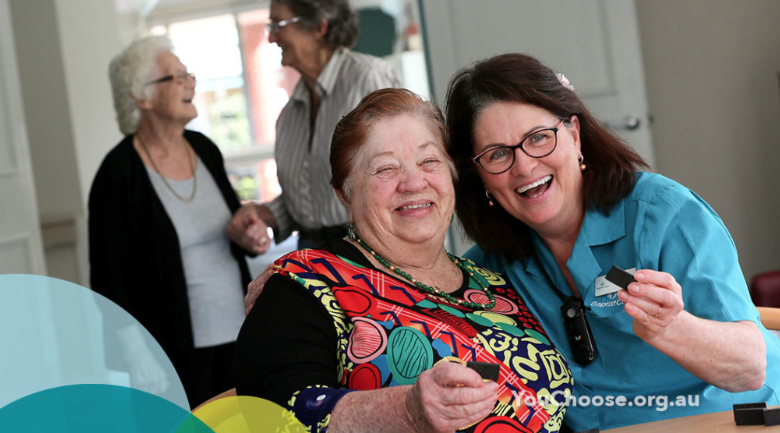 A holiday for people needing care
Recently re-opened in brand new premises, BaptistCare's Willmette facility in Kellyville makes it possible for local woman Marzieh Brentnall and her 83-year-old mum Olga to both get a holiday.
Willmette respite holiday for carers and people needing high needs care including those with dementia Kellyville NSW.For many of us, taking a holiday is as simple as booking time off work and going. But for families where a person with dementia is being cared for at home, things tend to be more complicated. Carers often find it difficult to find suitable replacement care while they take a well-earned break. And people with dementia can fret over the idea of being left alone with strangers.
For Glenwood woman Marzieh Brentnall and her 83-year-old mother, Olga, the solution to this difficult dilemma came in the form of Willmette, a BaptistCare facility in Kellyville. Newly re-opened in a brand new building, Willmette is a place Olga likes to stay and where Marzieh knows she will be safe, cared for, and happy.
"Mum has lived at home with my husband Roger and me for the past 16 years," Marzieh explains. "About seven years ago, she developed dementia and about four-and-a-half years ago she was assessed by the local Aged Care Assessment Team who mentioned Willmette."
Marzieh explains Olga initially attended Willmette on a day-basis. This gave Marzieh and her and her husband a break from their carer duties and Olga a chance to take part in outings and other organised Willmette activities. A year later, when a family emergency struck, Marzieh felt confident leaving Olga in Willmette for a longer period.
"I needed to go overseas to East Timor for an emergency, so Olga was in Willmette for a week or two," explains Marzieh. "That went very well. She had the grandsons visiting her every second day or so and at the end she said she felt safe and enjoyed every moment. She actually said she felt like she was on holiday!"
Olga has now enjoyed several longer-term stays in Willmette, allowing Marzieh and Roger to attend family celebrations, take holidays and to attend to other emergency situations.
"We don't hesitate to put her there because she's well looked after," she says. "We trust the people there and I feel that mom's safe and happy."
respite holiday for carers and people needing high needs care. These are the bedrooms.An aged-care worker herself, Marzieh says she thoroughly investigated Willmette's facilities and standard of care before leaving her mother. She was impressed by the attitude of the staff and the quality of the facilities. "I had an idea of what mum was getting into, but I wasn't sure about how mum would react," she says. "It was something new for her. But the first time she went, she came back and she was quite happy. She said she'd had a great time. The people were really nice to her."
Marzieh says another thing she likes about Willmette is that BaptistCare allows shorter terms stays. "I can put my mum in just for a short period of time. If I need to go away for a weekend, she can go there for a weekend. Most facilities don't do weekends, they only do two weeks or four week stays."
respite bedroom in holiday home for carers and people needing high needs care including those with dementiaShe says Olga particularly enjoyed the activities at Willmette. "They do a lot of singing and dancing, and sometimes they go out to lunch. They watch DVDs, do arts and crafts and they help with the cooking and washing."respite holiday for carers and people needing high needs care including those with dementia - the kitchen
So, what would Marzieh's advice be to other families considering Willmette? "I'd say to them, go and find out about it."
Figures from Carers Australia show that there are some 2.7 million family and friend carers in Australia. 860,000 of these are primary carers, and half of these people care for someone over 65 years old.
There is high demand for both planned and emergency respite places across Australia. This means that many carers don't get the regular breaks they need to recharge their own batteries. So we urge you to make enquiries today to ensure you can access government-supported or independent respite care, and get the holiday you need.