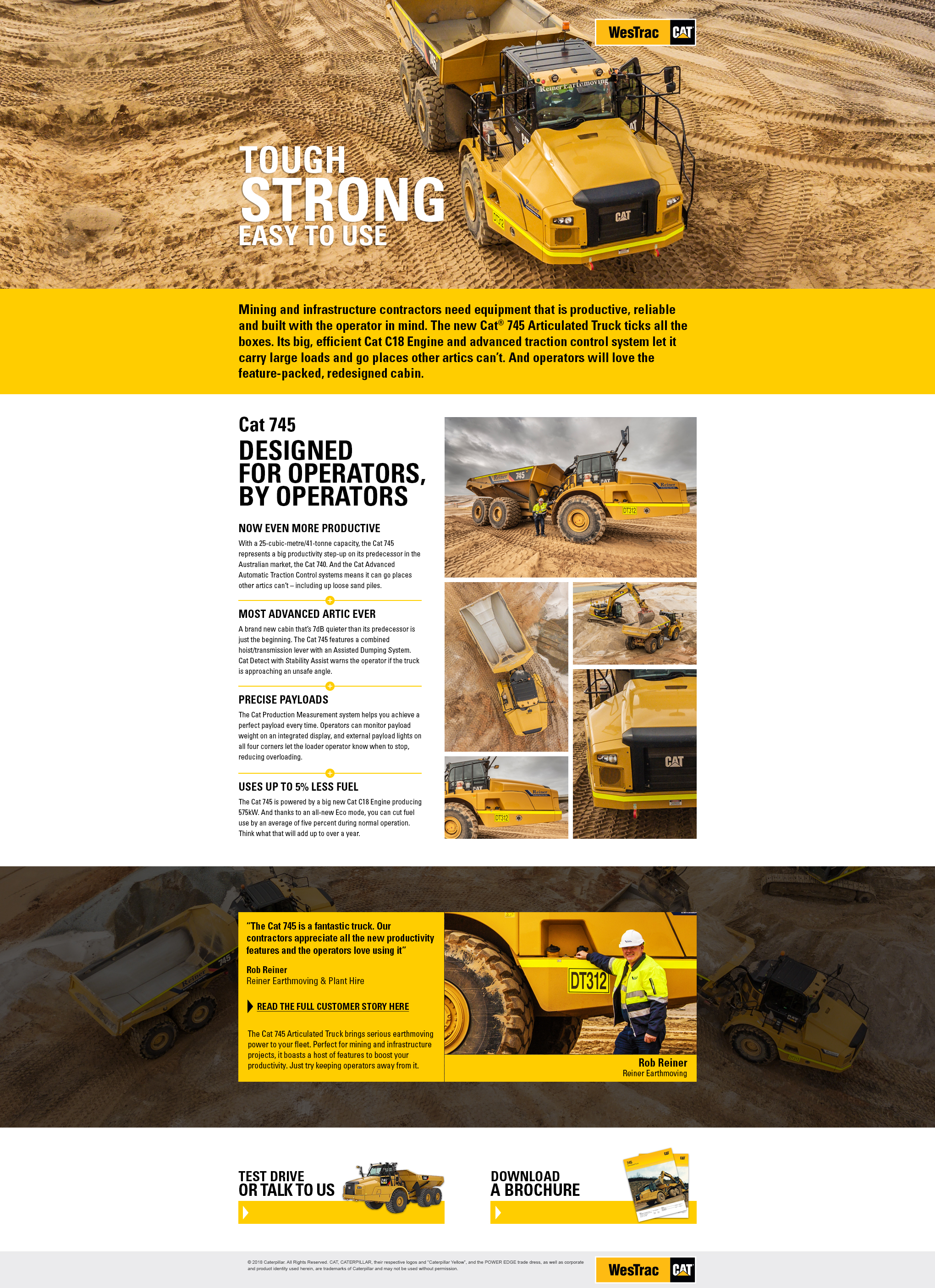 Cat 745 landing page
CLIENT: WesTrac
PUBLISHED: WesTrac website
PDF of ORIGINAL: Cat 745 campaign site
CREATED: July 2018
AUTHOR: Fallon Dasey
TOUGH, STRONG
EASY TO USE
Mining and infrastructure contractors need equipment that is productive, reliable and built with the operator in mind. The new Cat® 745 Articulated Truck ticks all the boxes. Its efficient Cat C18 Engine and advanced traction control system let it carry large loads and go places other artics can't. And operators will love the feature-packed, redesigned cabin.
CAT 745
DESIGNED FOR OPERATORS, BY OPERATORS
NOW EVEN MORE PRODUCTIVE
With a 25-cubic-metre/41-tonne capacity, the Cat 745 represents a big productivity step-up on its predecessor in the Australian market, the Cat 740. And the Cat Advanced Automatic Traction Control system means it can go places other artics can't, such as up loose sand piles.
HIGHLY ADVANCED
A brand new cabin that's 7dB quieter than its predecessor is just the beginning. The Cat 745 features a combined hoist/transmission lever with an Assisted Dumping System. Cat Detect with Stability Assist warns the operator if the truck is approaching an unsafe angle.
PRECISE PAYLOADS
The Cat Production Measurement system helps you achieve a perfect payload every time. Operators can monitor payload weight on an integrated display, and external payload lights on all four corners let the loader operator know when to stop, reducing overloading.
USES UP TO 5% LESS FUEL
The Cat 745 is powered by a big new Cat C18 Engine producing 375kW. And thanks to all-new Eco mode, you can cut fuel use by an average of five percent during normal operation. Think what that will add up to over a year.
"The Cat 745 is a fantastic truck. Our contractors appreciate all the new productivity features and the operators love using it"
Rob Reiner
Reiner Earthmoving & Plant Hire
READ THE FULL CUSTOMER STORY HERE
The Cat 745 Articulated Truck brings serious earthmoving power to your fleet. Perfect for mining and infrastructure projects, it boasts a host of features to boost your productivity.
TEST DRIVE
OR TALK TO US
DOWNLOAD
A BROCHURE