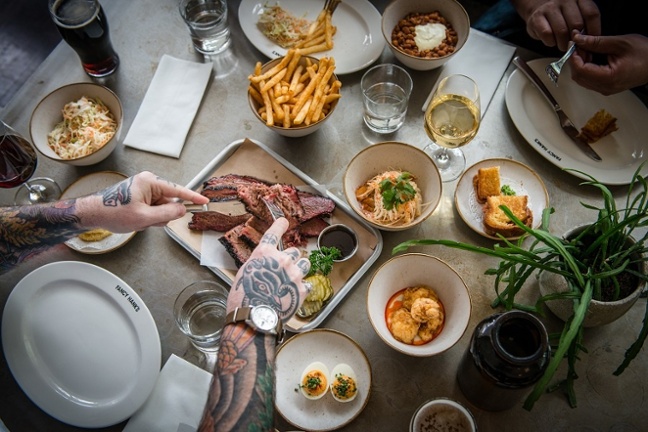 A tale of slow cooking and sparkling water
Fancy Hank's is a Melbourne institution, serving up some of Australia's best American-style barbecue food. Installing the BRITA Professional Bottling has allowed the venue to improve its table-water offering while boosting revenue.
When guests are seated at Melbourne barbecue restaurant Fancy Hank's, one of the first things they are asked is about their water preference. Would they prefer still or sparkling filtered water?
The popular restaurant moved to upmarket new premises on Bourke Street in Melbourne's CBD in late 2016 and decided to install a BRITA Professional Bottling system at the same time. Customers who opt for still water are served a bottle of chilled BRITA filtered water free of charge, while those who opt for sparkling water pay $5 for a bottomless bottle.
Co-owner Mike Patrick says the uptake rate for sparkling water is up to 30 percent of customers, and with around 250 covers being served a day the BRITA system has introduced a welcome new source of revenue.
"It's definitely working for us in terms of pricing," he says. "And I think the number of people taking sparkling water will grow as we become more established"
Mike says a number of factors were involved in the decision to try the BRITA system.
"At the old location, we provided tap water and regular post-mix soda water," he says. "But the new venue is more of a full-service restaurant and we wanted to provide a higher quality of water. Then there are the environmental reasons like less waste and less transport."
A real space saver
Mike says the space-saving aspect was another major advantage with the BRITA professional bottling system. "We don't have a huge amount of storage on site, so not having to have boxes of sparkling water is a big help. We also don't have to take out a lot of empty bottles at the end of the shift, and that puts less strain on staff."
Fancy Hanks have integrated the BRITA bottling system into their business model and it's paying dividends across a number of fronts. Download The BRITA Experience catalogue for Restaurants and Cafes here to find out more.